Can't find the perfect present in the Cyber Monday camera deals? Well, we've got just the thing for you: a remote control flying Santa drone for just £39.99!
It's a gift that kids will love playing with for the whole Christmas period, and you can even use it to fly past their window on Christmas Eve to prove that Santa Claus really does exist!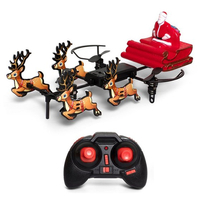 Remote Control Flying Santa: £39.99
Xmas gift No such thing as Santa? We beg to differ! Fly this four-prop drone around your living room on Christmas morning and prove that Santa is very much real!
From Very
Designed to look like reindeer pulling Santa and his sleigh, this is one of the best drones for kids to unwrap and play with on Christmas morning! A fully functioning four-propellor drone with full maneuverability, this 24cm device is guaranteed to have the whole family wanting a go.
The controller requires three AAA batteries (not included, so make sure you pick up a pack) and the drone comes with spare rotors, a charging cable and full instructions. Just make sure to keep the sherry under control – Santa should never drink and fly!
Read more:
Best camera drones
Best indoor drones
Best DJI drones
Best drones for beginners
Best FPV drones
Best cheap drones