UPDATE: It previously seemed that 2021 was going to bring a bountiful tidal wave of brand new Canon cameras, but new information indicates that it could be more of a feeble trickle. According to rumor website Canon Rumors, new sources have come forward to clarify that due to "manufacturing challenges" and the COVID-19 pandemic, "things have changed significantly with the roadmap".
However, Canon fans hungry for the release of the upcoming Canon EOS R1 shouldn't be too disappointed with this news. Apparently, "the most exciting camera coming from Canon" will be in the second half of the year. This will likely be the Canon EOS R1, which is thought to be Canon's mirrorless answer to the Canon EOS 1D X Mark III.
Other product announcements that were previously planned for 2021 may be scrapped, as the global situation that camera manufacturers are facing makes it "impossible to plan too far ahead".
ORIGINAL STORY: We're only a week into the New Year, but the Canon rumors are already flowing thick and fast. We've periodically heard tidbits of information on new Canon cameras in recent months, but now a new report has emerged claiming to lay out all of Canon's plans for its camera announcements throughout 2021.
Not only does this include the highly anticipated Canon EOS R1 flagship mirrorless camera (widely considered to be the mirrorless alternative to the Canon EOS 1D X Mark IV), but also a few interesting surprises – including an APS-C RF mount camera and an ultra-high resolution RF body.
• Read more: Best Canon camera
This exciting information on the new Canon cameras expected this year comes courtesy of Canon Rumors and their anonymous source. While many rumors often prove to be accurate, it's worth noting that there's no iron-clad guarantee that these cameras will definitely appear.
Canon EOS R1
This is the camera everyone is waiting for – the mirrorless answer to the Canon EOS 1D X Mark III. While it's not certain whether the Canon EOS R1 will actually be released this year, it does seem that we might get an official announcement. Canon Rumors says, "I have been told… that the EOS R1 will be shown off ahead of the Tokyo Olympics this summer."
A high resolution Canon RF body
Apparently we could be seeing an RF mount body with "at least twice the megapixels of the EOS R5" at some point this year. With the Canon EOS R5 featuring a 45MP sensor, does this mean that we could potentially see a 100MP camera from Canon in 2021?
An APS-C RF mount body
With rumors pointing to the death of the Canon EOS M system, we're not surprised to see this prediction. Apparently, 2021 could see an APS-C RF mount camera that will "be directly aimed at sports, wildlife and videography". Up until now, all of the RF mount cameras have been full frame, so this would be the first of its kind – not unlike the Nikon Z50, which was released in 2019.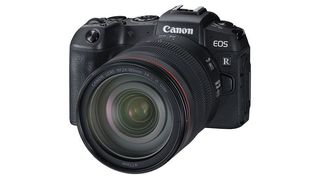 Two new entry-level full frame RF bodies
It looks as though the Canon EOS R and the Canon EOS RP will also get a refresh this year, with Canon apparently planning to release two new cameras simultaneously. The first will be "the most affordable full-frame camera Canon has ever made" and the second will slot between the first body and the current Canon EOS R6. Canon Rumors speculates that these bodies could be priced at $899 and $1,499 respectively.
Canon EOS C50
Apparently the Canon EOS C50 was due to be released in late 2020, but has now been rescheduled for the first half of 2021. There isn't a massive amount of detail on this upcoming cinema camera, but it is rumored to utilize a box camera design.
Canon EOS C90
Similarly to the Canon EOS C50, there's little information on this upcoming cinema camera. However, it seems that we should be expecting it to appear at some point this year.
Canon 8K cinema camera
We recently reported on a new 8K cinema camera from Canon, which was teased with a video released from Canon Japan. This might end up being the first official announcement from Canon, so keep your eyes peeled for more information…
Read more
Best mirrorless cameras
Best cinema cameras
Best camera for video
Best Canon lenses
Best Canon RF lenses