The latest issue of N-Photo, the award-winning monthly magazine for Nikon DSLR and mirrorless users, goes on sale from 21 November. Let's take a sneak peek at what's in store…
Of all wildlife, birds are perhaps the most difficult to photograph. They're twitchy and erratic, have an understandable distrust of humans, and move at breakneck speed through three dimensions, rather than the two that land-dwelling life forms are restricted to. But enthusiasm and perseverance goes an awfully long way, as avian photographer and author of How To See Birds Matthew Stadlen attests in this issue's lead feature.
And that's not all. Also in this month's N-Photo:
Patience is also a virtue for capturing long exposures, and this issue our Apprentice heads to the South Devon coast to capture beautifully serene seascapes under the guidance of Neil Burnell.
Samyang has launched not one, but two 14mm f/2.8 wide primes, one autofocus and one fully manual – even down to setting the aperture. Which is our winner? You might be surprised. Also in our Gear section, we compare portrait primes with 85mm and 105mm focal lengths and try out tabletop tripods.
This issue we also speak with veteran portrait and documentary photographer Marilyn Stafford about her extraordinary career capturing some of the 20th century's most notable cultural figures, and who's still going strong at the age of 94. It's a fascinating read!
Over in our Skills section, we explain why and when to use a circular polarizer, how to shoot low-key animal portraits that look as if they'd been shot in a studio, and we have two long-exposure projects, from candid street-style photography to super-long night-time shots. Plus we have our usual tutorials to help you master Adobe CC, Affinity Photo and Capture NX-D.
This issue also comes with a bonus Teach Yourself Outdoor Photography ebook, packed with advice for getting your best-ever shots in the great outdoors.
Where to find N-Photo magazine
So rush down to your newsagent today. Or ever better, why not subscribe to a print edition, and have the magazine delivered to your door every month?
Alternatively, we have a number of different digital options available, including:
• Apple app (for iPad or iPhone)
• Zinio app (multi-platform app for desktop or smartphone)
• Google Play (for Android devices)
• Readly (all-you-can-eat digital magazine subscription service)
If you wanted a printed version of any of our most recent issues we have a selection of back issues to choose from in our online store.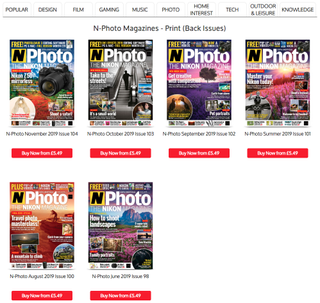 Subscription deals: Our guide to the best photo magazines