Video makers know the worth of a gimbal stabiliser, and when you can get one of the best for less, that's truly a great bargain. And Chinese accessories maker Zhiyun's Crane 3 Lab is definitely one of the best money can buy.
The Crane 3 Lab usually retails for about AU$900 in Australia, but the country's biggest camera retail store has dropped the price by a very respectable AU$200 – so you can now get this three-axis stabiliser for just AU$699.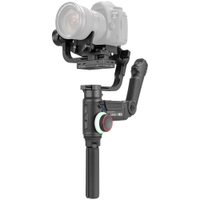 Zhiyun-Tech Crane 3 Lab | AU$699.95 (RRP AU$899.99; save AU$200)
Designed to keep your DSLR steady while you do what you do best – concentrate on the money shot – the Crane 3 Lab is now available for 22% off the RRP. But it's not just heavier DSLRs that this rig can support – use it with mirrorless cameras as well or even with cine cameras if that's what you have. It will take on a payload of up to 4.6kg without trouble.
The Crane 3 is a significant upgrade from its predecessor, which could only support a camera and lens combination of up to just 3.2kg. Now you can up the ante if you need to without compromising on stability.
The three-axis gimbal uses aviation grade motors that, Zhiyun claims, are twice as powerful as before while being half as noisy. It also promises to be 150% quicker to respond than its predecessor, boasts touch controls and an all-inclusive control panel. There's also integrated wireless FHD image transmission onboard.
It also features a secondary handle that allows for two-handed use if needed. And that's a good thing as the Crane 3 Lab isn't a lightweight – the gimbal alone weighs about 4kg, so if you're using it handheld, you'll need to be fit as a fiddle as you'll be taking on about six kilos of combined weight when filming. But this heavyweight build is also what makes the Zhiyun sturdy to take a payload that weighs as much as its does.
So if this gimbal stabiliser is something you need, grab it for just AU$699 from Ted's Cameras now.
Read more:
The best gimbals for your phone or camera
Our in-depth Zhiyun Crane 3S review
Need something smaller and lighter? Check out our Zhiyun Smooth X review
The best cameras for video