Right from the start, Sony has made adaptors for using older A-mount lenses on its mirrorless E-mount bodies, but typically with some restrictions on the features available. The latest LA-EA5 adaptor, however, seems to take the A-mount lens compatibility to the next level, supporting many of Sony's latest mirrorless AF advances.
Sony's A-mount cameras were a comparatively short-lived 'SLT' (single lens translucent) DSLR/mirrorless design with a fixed, semi-translucent mirror and an electronic viewfinder. They gave the advantages of DSLR-style phase detection autofocus sensors combined with the live view of today's mirrorless cameras. Sony is still selling its high-powered Sony A99 II, but the rest have been consigned to the history books.
However, during its brief reign, the Sony SLT range accumulated a decent number of 'Alpha' (as in 'A-mount') lenses, which represent a considerable investment in themselves, so right from the start Sony offered an A-mount adaptor for its new E-mount mirrorless cameras.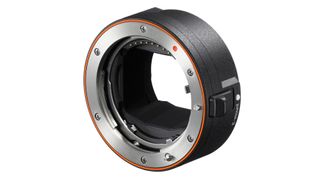 Sony LA-EA5 features
The Sony LA-EA2 adaptor is now only available used, and while the LA-EA3 and LA-EA4 adaptors are progressively more advanced, it's the latest version which offers the best features.
Sony says the new LA-EA5 adaptor makes Alpha lenses compatible with the AF and high-speed shooting features of the latest E-mount mirrorless cameras. This includes A-mount lenses with SSM (Super Sonic wave Motor) and SAM (Smooth Autofocus Motor) lenses, and A-mount lenses that do not have internal focus motors at all.
Compatibility across the whole mirrorless range is not quoted, but Sony does say that when the new LA-EA5 adaptor is used with the Alpha A7R IV or Alpha A6600 specifically, high-speed continuous shooting with AF/AE tracking at up to 11 fps is possible with SSM/SAM lenses and lenses that do not have internal focus motors, such as the Sonnar T* 135mm F1.8 ZA and Planar T* 85mm F1.4 ZA.
The new LA-EA5 adaptor also offers full support for Sony's phase-detection AF, wide-area phase-detection AF, real-time Eye AF for both humans and animals, and real-time Tracking and AF/AE[iv] (auto exposure) tracking.
The LA-EA5 is designed to be compact and has both an aperture drive unit and an AF drive unit.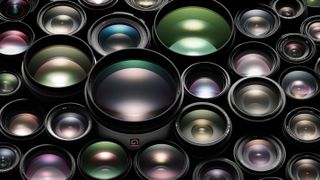 Sony LA-EA5 price and availability
The LA-EA5 will be available in October/November 2020 for around $248. That's more than the older LA-EA3 and LA-EA4 adaptors, but the LA-EA5 is a more advanced version that could be the best choice for those who still have a large inventory of A-mount lenses.
Read more:
• Best Sony lenses
• Best professional cameras
• Best Sony cameras
• Best DSLRs
• Best full frame mirrorless cameras