Sirui is launching a new series of lenses named the Sniper Series. The set of APS-C lenses will be the first autofocus optics set manufactured by Sirui, which usually specializes in anamorphic and cine lens options, available natively for the Fujifilm X-mount, Sony E-mount, and Nikon Z-mount.
This set includes 23mm, 33mm, and 56mm focal length lenses (35mm, 50mm, and 85mm full-frame equivalent), each boasting an f/1.2 ultra-fast aperture that even many of the best Fujifilm lenses, Sony lenses, and Nikon Z lenses don't offer. The focal lengths are the only difference between the lenses, with all bearing the same performance features and form factor.
Although available separately, the Sniper Series is marketed as a set – a trilogy of primes that are almost identical apart from the focal length. Each comes in one of three colors – Black Carbon, Silver Aluminum or White Ceramic – and each looks beautiful.
The lenses are compact and lightweight, and impressively all the same size. The weight does differ slightly, due to the lens configuration for each focal length, but the length, circumference and filter size are all consistent.
Sirui has stayed true to its typical low-end budget by pricing each lens at just $349, making this lens set a fantastic affordable option for APS-C users. Third-party lenses are a great entry point to lower aperture lenses, which typically would mean a manual focus lens at this price.
A low price does not necessarily equal low quality, however, as the lens specifications look extremely enticing. The fast f/1.2 aperture enables great low-light performance, a shallow depth of field, and rounded high bokeh quality due to the lenses' 11 aperture blades.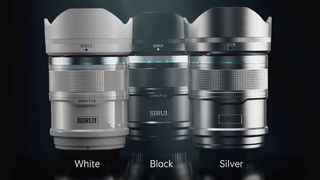 An STM motor enables quick, quiet, and efficient autofocus, which further enables subject and eye focus tracking for both video and stills. This, like the other performance specifications, is identical across all three lenses, adding to the uniformity of not just the aesthetics but also the performance – and therefore end result. Another consistency across all lenses is the color, producing accurate tones across all focal lengths.
The new Sniper Series is set to go live on Indiegogo on November 20, and Sirui is offering an early bird discount for backers with a saving of 14%, meaning each lens is just $299! To get not one but three AF prime lenses with an aperture of f/1.2 for under $1,000 is an incredibly good deal, and one that shouldn't be missed!
Editor's note: As with all crowdfunding projects, there is no guarantee that the final product will match the early depictions in the campaign – or that the final product will be completed or delivered at all. DCW does not endorse this or any other crowdfunding campaign.
For more budget-friendly camera equipment, see our guides the best budget-friendly cameras, best budget video cameras and best cheap lenses.