Audio specialists Sennheiser has launched a new family of microphones that is designed to simplify wireless mic use for DSLR, mirrorless, and video camera users.
The XS Wireless Digital family offers a variety of components, that allow you to pick the microphone and accessories to suit your needs. Transmitters and recovers use a 2.4 GHz wireless link, that ensures they can be used worldwide without the need for license. They offer a working range of up to 75m.
Launched at the NAMM trade show in California, there are four different kits choose from - or you can buy components separately to create your own audio recording outfit.
Both receiver and transmitter can be charged via USB, helping to aid the portability of the outfits. They are said to work for up to five hours on a single charge.
Operation has been made as easy as possible via a single button: Pressing the buttons on both the transmitter and the receiver powers up and links the units, clicking either button on the receiver or transmitter will mute the audio signal, and pressing and holding both buttons again will power the system down.
A key kit for vloggers and documentary video shooter will be the Sennheiser XSW-D Portable Lavalier Set. This includes the ME 2-II clip-on microphone, transmitter and receiver with 3.5 mm mini-jacks, belt clip, cold-shoe mount, coiled cable and USB-A to USB-C charging cable. This kit will be available for a recommended price of £289 / $439 from February.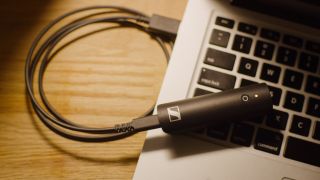 Read more:
The best microphones for photographers and filmmakers
The best 4K camera for filmmaking