When it comes to portable LED lighting, the brilliant Lume Cube Air units are hard to beat. And now their already low pricing is truly unbeatable, with the all-in kit containing two Lume Cube Airs and a host of accessories has been slashed by $226!
Until midnight tonight (EST) you can purchase the Lume Cube Air Professional Lighting Kit for just $159 – a huge saving on its normal $385 retail price!
Whether you're looking for versatile video lighting, pocket-sized portable LEDs for your camera bag, or a lighting setup for your home working or video conferencing area, this offer is one you truly can't miss.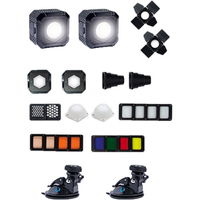 You get two Lume Cube Air units in this kit, each boasting 400 LUX of power at 1m, a 60° beam angle, 5700K daylight-balanced output and a CRI (Color Rendering Index) rating of +/-90 – meaning pretty dang good color accuracy. In addition to their tripod mounting sockets each Air is also magnetic, and can be controlled via a phone app.
The kit comprises all the accessories you could need, including two modification frames, two snoot, two barn doors, two Honeycomb Packs, a CTO four-pack, RGBY Color Pack, four flat diffusers, two bulb diffusers, and a zippered carry case.
Read more:
LumeCube 2.0 review
The best LED light panels in 2020: portable lighting for photography and video
Joby Beamo challenges Lume Cube for square-light supremacy