LED light wands, or light sticks, provide an effective (and relatively affordable) alternative to a photographer's flashgun or a videomaker's stand-mounted lamp. Photographers don't need to sync a light wand with their camera's shutter button as a wand emits a continuous light source. Thanks to a light wand's internal battery photographers and videographers are free to shoot in a variety of locations without being tethered to a mains power supply (plus light wands are lightweight and portable compared to traditional video lighting kits).
The continuous light source emitted by an LED (light emitting diode) wand can bring out the shape and form of your subject, change the mood of the scene using multiple colors and even add special animated lighting effects to video footage. Like LED light panels, light wands are packed full of dozens of light-emitting diodes. Though unlike LED panels they are arranged in a more narrow 'light sabre' style column. Each diode can change color, often independently from the other diodes in the wand. This is the key to providing a range of creative and practical lighting scenarios for photographers and videographers.
Many of the light wands in this guide can be controlled remotely via Bluetooth and a smartphone app. So you can trigger animated lighting presets with a single tap (such as a flashing police car's light), or dial in a specific color temperature to complement your location's other light sources. You can also change the hue, saturation and brightness of most of the featured light wands more quickly than the traditional method of clipping colored gels to a lamp's barn doors.
The light wands in this guide range in cost due to their size, the strength of the light emitted, and other factors (such as Bluetooth connectivity). Some models will suit portrait photography while others are more suited to providing special lighting effects for video sequences. There's even a wearable mini LED that switches from a stick to a bracelet, which is perfect for creatively enhancing a sports or fashion shoot!
The 6 best light sticks for photography
Why you can trust Digital Camera World Our expert reviewers spend hours testing and comparing products and services so you can choose the best for you. Find out how we test.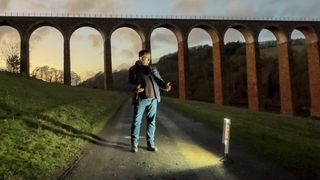 The Zhiyun Fiveray F100 is an upgraded model from the Fiveray FR100C, so it boasts more LED chips (324) compared to its predecessor's 256. The newer model also sports a set of barn doors so that you can control the spread of light more easily. You can dial in a range of color temperatures or adjust Hue, Saturation and Lightness for a more creatively colorful output.
The F100 also has a collection of six animated lighting effects which video makers can use to enhance their creative projects. It has a 1/4in threaded hole at the base for tripod mounting (though you'll need to supply your own tripod).
In our tests, we loved the stick's combination of power and portability when it came to lighting subjects for photo or video shoots, and it's easily one of the best video lights despite its size.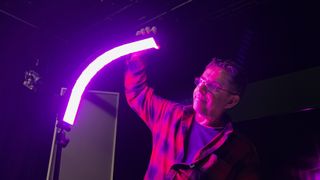 The Sirui Dragon B25R is marketed as the world's first 'bendable' LED (though we also feature the bendable the KYU 6 Light Bracelet in this guide). The Dragon enables you to create a curved field of light thanks to a series of 9 hinged LED panels. This curved light source is more effective at lighting close-up portrait or product shots rather than more distant subjects. It has two 1/4 inch threads (at the base and the back) so you can mount it on a tripod (not supplied). As well as the ability to change color temperature and hue, you can trigger a generous 16 different lighting effects via a well-designed Bluetooth-connected smartphone app, making this what we think is a particularly desirable light stick for creative videographers.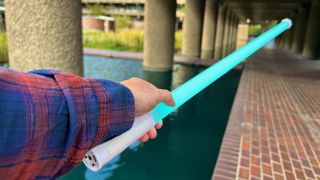 Nanlite produces a collection of PavoTube LED light wands that differ greatly in price. Despite its relatively low cost, the PavoTube T8-7X boasts features found in more expensive LED wands such as the PavoTube II X-Series. These features include animated pixel effects such as 'Driving', which mimics the effect of passing street lights illuminating your subject's face. You can trigger these animated effects via the Nanlink smartphone app, as well as performing the usual LED wand adjustments to color hue and temperature.
At under $100 / £100 it won't break your budget. We love that you can get your subject to wield the T8-7X light (light saber style) for creative in-shot light streaks, or mount it on a tripod to add fill light to portraits.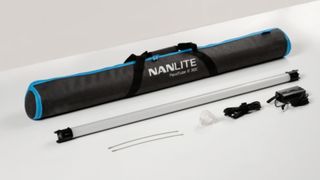 As Nanlite are a prolific maker of LED wands it's no surprise to see another PavoTube gracing this guide. The four foot long PavoTube II 30C is the upgraded version of the Nanlite PavoTube 30C that we have previously reviewed. The MK II version is 20% more powerful than its predecessor so gives you a brighter light source and more color-accurate key lighting in a photography studio or help a video presenter stand out from a background on location.
The older model lacked Bluetooth connectivity, but we are very pleased the PavoTube II 30C now has this essential feature, enabling wireless control of the LED wand's colors and effects via the Nanlink smartphone app. The newer model also boasts 15 special lighting effects compared to Mark 1's miserly 5. A supplied clip enables you to mount the PavoTube II 30C on a tripod.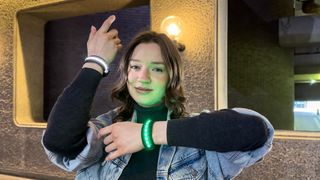 This kit comes with two mini LED light wands that transform from a rigid light stick shape to a wearable bracelet in a snap. In bracelet form they are perfect for adding light streaks to slow shutter photography or pools of color to portrait shoots. The two light wands in the kit have slightly different features. The RGB light bracelet has a creative color scheme that can emit primary colors. It also has a collection of animated lighting sequences such as a flickering fire or flashing red and blue cop car. The kit's Bi-Color bracelet can emit light across the Kelvin scale (from a daylight 600K to a tungsten 2700K) so is able to match other light sources. It has a different collection of animated effects including Stroboscopic and Explosion. You can buy either of the light bracelets individually to save money or go for a six-pack for more complex lighting scenarios using the KYU-6 Filmmakers Pro Kit.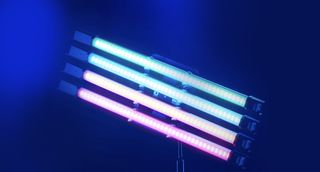 The Godox TL60 RGB tube light can work alone just like the other wands in this guide. However, some photographers and videographers may require a larger LED set-up where multiple light wands can work independently or be synced together to emit identical light effects.
The four TL60 light tubes in this kit can be physically linked together via supplied cables. You can then set one light as the master and the others as slaves. The three slaves will then follow any lighting presets that you set on the master tube light.
You can control the wands via the Godox app, though this kit also comes with a handy dedicated remote control unit. Each TL60 RGB wand can emit a range of HSI colors and has a color temperature range of 2700-6500K, plus a collection of 14 animated presets (including the ubiquitous Police Car effect). There are also 40 digital gels that you can apply to change color. The four-wand kit is expensive but you can also buy the TL60 RGB tube individually.
Read more:
• Best LED panels for photography
• Best lighting kits
• Best ring lights
• Best reflectors for photography
• Best portable backgrounds for photography
• Best light stands