If you want a sturdy and reliable entry-level camera that's light enough to carry around all day, but rugged enough to survive any unfortunate knocks, then you could do a lot worse than the Nikon D3500. We're big fans of this camera, and now you can pick it up as part of an incredible Amazon deal.
This bundle not only includes the Nikon D3500, but it also comes with an 18-55mm f/3.5-5.6 VR lens and a 70-300mm f/4.5-6.3 ED lens, ensuring that no matter what subject you're shooting, you've got a focal length up for the job.
• Read more: Best Nikon camera
This bundle also includes a 128GB card, a tripod, a 55mm 3 piece filter kit, a 55mm tulip hood, a digital slave flash, a wrist grip, a camera case, a USB card reader, a lens brush pen, a handy lens blower and a 1 year seller supplied warranty. Phew!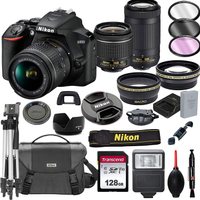 Nikon D3500 Bundle: $524 (was $1,299)
Save over $750 on this incredible Nikon D3500 deal, complete with flash, tripod, 128GB memory card, filters and more. With fantastic image quality and a rugged body, this is a great camera for any entry-level user. (US deal)
This amazing bundle is everything you need to get started with photography. It would make a fantastic Christmas gift (for those of us organized enough to start shopping this early!), or even just a wonderful present to yourself to help you take your photographic journey to the next level.
Originally priced at $1,299, you can snap up this bundle for only $524, which is an incredible saving of $775. We're sure this deal won't hang around for long, so don't delay!
Read more:
Best 50mm lens in 2019: Which 'standard prime' is the right one for you?
Best standard zoom lens upgrades for Nikon
Best Nikon lenses in 2019: from telephotos to ultra-wide lenses and more