Whether you're a vlogger looking to improve your production value, or you're simply looking to add an interesting new light to your collection, this star-shaped ring light is the perfect addition to your studio. Not only can you use this unusual light as a ring light, but you can also detach the light bars to use them separately! Featuring a high-powered 90W system, this ring light deal is definitely worth considering. Just make sure you don't take too long deciding – this deal will run out in 10 hours from the time of publication!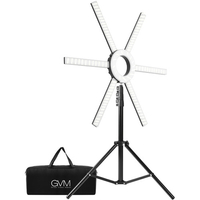 GVM Ring Light 600S | was $159 | now $119
Save $40 This amazing ring light deal will save you 25% on the original price! Capable of being used as a ring light or additional bar lighting, this light is perfect for vloggers, photographers or videographers alike.
The GVM 600S ring light features a clever design with removable components and a camera mount. It has six 13 LED light bars configured in an aesthetically pleasing star-like shape to create beautiful star reflections in your subject's eyes. Meanwhile, an open circular camera mount means you can capture beautifully flattering portraits or vlogging footage.
The GVM 600S has a wide 120º beam spread with the bars attached, but you can also easily remove the bars to use as a har light or a sidelight to create a sense of depth in your image or video footage.
With a 3200 to 5600L adjustable color temperature, the ability to be dimmed from 10 to 100% and a very high CRI/TLCI rating of 97+, the GVM 600S is definitely a ring light worth considering.
Read more
Best ring light
Best LED light panels
Best video lights
Best photography lighting kits