Samsung is rumored to working on an invisible selfie camera that will allow it to have a true infinity screen – a display that occupies 100% of the front of the camera phone. It will do this by hiding the camera under the screen.
Finding ingenious solutions for making the selfie camera less intrusive have multiplied over the last year. Once upon a time, the camera sat in a black bar above the display. Then manufacturers worked on notches and punch holes, precision designs that allowed them to create an LCD screen that wrapped around the camera. Most recently, we have seen pop-up selfie cameras, that emerge from the top of the phone when you want to take an picture of yourself, video conference or vlog – and are tucked way out of sight when you don't need them.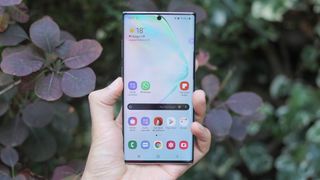 Samsung itself hinted that it was working on its Under-Display Camera (UDC) technology earlier this year - but everyone was pretty sure that this would not actually reach the stores until 2021 at the earliest. Now it seems that we could see the under-screen camera appear on a Samsung Galaxy next year.
But which handset will this appear in? Some have suggested the Fold 2 - adding even more sophisticated to a state-of-the-art display. Others think that they are more likely to launch this on the Galaxy S11.
Other manufactures, such as Oppo and Xiaomi, are also working to make make the selfie camera from sight – and if the techology works, there is a good chance it will become standard issue on all phones within the decade.
Read more:
Smartphone news, camera phone leaks and mobile rumors