Oppo has just launched the Oppo Imagine IF Photography Awards with one of the biggest prizes for mobile photography competitions. Not only will the winners take home a cash prize of CNY160,000 ($18,000) but they will also receive expert training and get to take part in an international photo exhibition.
The Chinese tech manufacturer is responsible for the flagship Oppo Find N2, a foldable flip phone with a 50MP camera and the Oppo Find X5 Pro which combines two 50MP Hasselblad cameras. Oppo's Moto is "inspiration ahead" and by launching a photography competition aimed purely at camera phone photographers, the company is empowering those who don't have access to more expensive mirrorless cameras.
• Check out the best budget camera phones that still enable you to take stunning photos without breaking the bank
In a first-of-its-kind competition, the theme is based around "Beyond the Image, Beyond Imagination and invites photographers from all over the world to enter images into eight categories; the distant view, landscape, light and shadow, the taste of memories, portrait, chapters of life, colors and night scenery. Offering such a diverse range of categories enables photographers specializing in a wide range of genres to enter.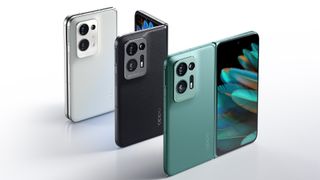 As well as awarding the Gold Award to the overall winner with a cash prize equivalent to $18,000/£14,483, Oppo is also offering four silver awards with a cash prize of CNY 60,000 (roughly $8,724/£7,019) and ten bronze awards with a cash prize of CNY 20,000 (roughly $2,908/£2,339) as well as training opportunities and inclusions in exhibitions. For each category, there will also be four honorable mentions as well as a partner channel award and a monthly activity award. All the above winners will also receive an Oppo Find X6.
The judging panel comprises a range of world-renowned photographers including Pete Lau, the senior vice president of Oppo, Tina Signesdottir Hult, a Norwegian art photographer and Hasselblad Master and Alec Soth, a Magnum photographer known for his large-format American projects.
Entry closes at 24:00 GMT on July 25 2023 and can be made through the Oppo Imagine IF official website. All photos must be taken on an Oppo phone, photographers are able to submit up to 40 images and it's free to enter.
For more information on entry requirements, head to the Oppo website.
Check out the best selfie sticks perfect for using with your smartphone to take selfies and group shots