Nikon has rolled out another beefy firmware update for its Z6 and Z7 duo. And while Animal-detection AF is the main talking point, additional CFexpress compatibility will surely please the full-frame mirrorless faithful.
The Nikon Z50 receives a modest update, too, with firmware version 1.10 designed to improve AF when users record self-portraits in Movie mode.
At the tail end of last year Nikon boosted the Nikon Z6 and Nikon Z7 with RAW video output and CFexpress compatibility, and the new firmware version 3.00 boosts the camera duo's abilities even further. Animal-detection AF is designed to work with cats and dogs, and boasts both face and eye detection, with face detection working in video mode, too.
• Read more: The best Nikon camera in 2020
Subject tracking has been altered to operate more like the 3D-tracking found in Nikon DSLRs. Half-pressing and holding the shutter button (or pressing AF-ON) while in AF-C mode will activate tracking, and when no longer held down the tracking will stop. When this happens, the focus point will revert to its original position.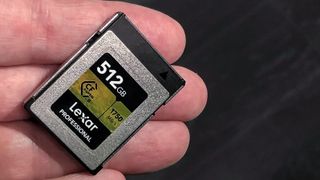 CFexpress cards are big news at the moment, widely regarded as the super-fast format of the future. However, while last year's firmware version 2.20 premiered Nikon's compatibility with the new storage medium, only Sony-branded cards were officially supported by the two full-frame cameras.
Following that firmware release, we tested a pair of SanDisk cards on the Nikon Z7 just to see what would happen; while it was possible to take and record images, a number of bugs were certainly present, requiring such measures as turning the camera off then on again or removing and reinserting the card to keep shooting.
Thankfully, the situation has improved with firmware version 3.00. Nikon has announced that both ProGrade and Lexar-branded CFexpress Type B cards are now supported – it seems likely that other cards not specifically mentioned by Nikon will likely result in similar bugs as before, but at least the rollout of full compatibility appears to be well underway.
To download firmware version 3.00 or version 1.10, or to find out more, visit the Nikon Download Center.
Read more:
Nikon Z6 vs Z7 – which should you buy?
Nikon Z50 review
The best Nikon camera in 2020
The best Nikon Z lenses for the Z6, Z7 and Z50