Following the launch of the new Z5, Nikon has released a wave of firmware updates for its existing family of three Z-mount mirrorless cameras.
The Nikon Z50 can now detect dogs' and cats' eyes and faces, in addition to those of humans, thanks to firmware version 2.00, and also receives improvements in subject tracking. Nikon Z7 and Nikon Z6 users already have these features, of course, so updating to firmware version 3.10 treats them to the ability to use the newly announced Z teleconverters (which is also included in the Z50 update).
• Read more: Nikon Z50 vs D7500
The Nikon Z5 will come preloaded with the latest firmware, and so will possess all these functions straight out of the box.
Animal AF
If anything, animal detection is even more useful for our four-legged friends than humans, as the deeper distance between noses and eyes will typically have regular AF producing a sharp snout with soft eyes.
The system automatically switches between faces and eyes, depending on subject distance, while using the left and right indicators allows you to switch between pets, or their individual eyes (when shooting video, only animal faces are recognized). The feature enables photographers to concentrate more on interacting with the animal and on framing the shot, instead of finding the focus.
Subject tracking improvements
Subject tracking with still-image shooting in AF-A, AF-C and auto-area AF in AF-area mode has been modified for a greater and more flexible operational feel. The camera now tracks the subject while the shutter-release button is pressed halfway, ending when the user takes their finger off the button, where the focus point returns to the original position before subject tracking.
A custom control can also be configured for switching between the auto-area AF screen and the subject tracking screen, allowing for easier transition to subject tracking, or to change the target subject, while looking through the viewfinder.
Teleconverter compatibility
All three cameras can now use the new Z Teleconverter TC-1.4x and Z Teleconverter TC-2.0x, which extend the focal length of compatible lenses – namely the yet-to-be-released Nikkor Z 70-200mm f/2.8 VR S, although future Z lenses will also be added to the list.
The teleconverters extend lenses' telephoto capabilities by increasing the focal length by 1.4× or 2.0×, with the loss of one or two stops of maximum aperture respectively. The teleconverters don't change the minimum focus distance, so they bring their subjects even closer when shooting.
How to update
The firmware updates can be downloaded from the Nikon website's Download Center. Click through the options to select your camera model whether you need the PC or macOS versions.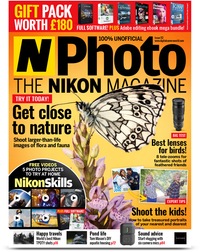 N-Photo: The Nikon Magazine is a monthly publication that's entirely dedicated to Nikon users. For the best news, reviews, projects and more, subscribe to N-Photo today!
Read more: