While everyone else is pushing the mirrorless megapixel barrier, from the Panasonic Lumix S1R to upcoming Sigma 60.9MP Foveon-sensor camera, Canon bucked the trend by releasing the entry level Canon EOS RP. Now it seems that Nikon is ready to follow suit, with an entry level model expected to be called the Nikon Z5 reportedly on the way in 2019.
UPDATE 2: As we suspected, the below image is a design mock-up created during the development of what became the Z6 and Z7. It was shared by Nikon design directors Naoyuki Murakami (designer of the D850, D5 and Z series) and Nobuo Hashimoto, during an interview with Nikkei BP. It is a real design, but is not a design for the entry level Z series camera currently being discussed.
UPDATE 1: Mirrorless Rumors posted an photo alleged photo of a Nikon Z1 entry level body. No specs or information were shared, and the site noted that the image was not sent from one of its regular sources. There are some red flags indicating that the image is inauthentic, namely that the "Z" logo is not consistent with the branding seen on the Nikon Z6 and Nikon Z7. It may be a photograph of a prototype camera, taken during the Z camera development phase, before the branding was finalised, meaning that it may not be 'fake' but might not have any relation to the current entry level Nikon Z story.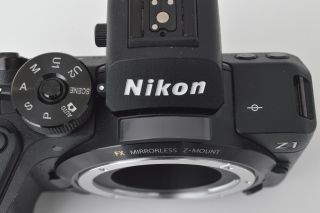 According to Nikon Rumors, at the CP+ show in Japan, Igawa Yuxi from Nikon China said that a new consumer-oriented Z camera will be coming soon – "a low-priced model similar to the Canon EOS RP".
This ties in with what Jordi Brinkman, Nikon Europe's Product Manager, told us last year. "Definitely we will widen our lineup… there will be models below the Z6. We will widen up the range to different users and different price brackets, definitely."
Brinkman also noted that there would be non-premium Z lenses to accommodate an entry level camera such as the Nikon Z5. "Having an S-line suggests that there should also be something else; non-S-line lenses, which will focus more on affordability. However, they will still meet a high quality standard while focusing on lower cost, so maybe won't have weather sealing or they'll use different materials."
It's already shaping up to be an interesting 2019, as far as camera strategy goes. Olympus is really pushing the professional angle, with the pro-oriented Olympus OM-D E-M1X, while the Canon EOS RP and now the Nikon Z5 targeted the advanced amateur user.
With smartphones continuing to erode the camera market, it will be interesting to see which strategy proves most successful when the dust settles.
Read more:
The best Nikon cameras in 2019
Low-cost mirrorless cameras, new lenses - Nikon's future Z system plans revealed