The good folks over at NikonRumors have got hold of a few specs for the presumably upcoming Nikon D6 DSLR – and they make for some interesting reading.
First things first, the camera won't be available until 2020, so there's no need to smash the piggy bank anytime soon. Rumors suggest that the delay has been caused by the addition of sensor stabilisation.
The good news though is that the cameras are already in testing, so hopefully early 2020 is reasonable to hope for – perhaps at the CP+ 2020 Imaging Show in Japan, which is held in February.
Given the recent launch of Nikon's full-frame mirrorless Z series, some have wondered if the D6 might take the form of some sort of mirrorless hybrid camera. While the answer to this, it appears, is a firm no, it appears that we can expect the camera to sport a few "mirrorless features" – apparently meaning things like improved video and in-body image stabilisation.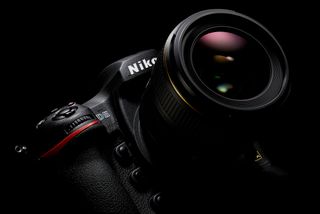 Other leaked specs for the D6 include: dual CFExpress memory card slots, a .76-78x 100% viewfinder and new dual Expeed processors, which should help boost the improved autofocus. Nikon has also reportedly included built-in Wi-Fi (thugh that was hardly unlikely to make it in) as well as a 3.2-million-dot touch screen.
Another feature probably inspired by the latest mirrorless successes is an improved silent shooting mode, which should make the D6 more useful for event photographers who need to be a little surreptitious.
That's about the sum of the information we have for now – concrete details like pricing and release date are still very much to come. We'll keep an eye out and update you with any further information we get on the forthcoming Nikon D6.
Read more:
Best telephoto lenses for Nikon