Blackmagic has launched a much-needed upgrade to its studio camera lineup, which is geared towards TV professionals involved in live production. The new cameras, the Blackmagic Studio Camera 4K Pro and the Blackmagic Studio Camera 4K Plus, are now available for pre-order for $1,795 and $1,295 respectively.
Well, we say "new"; basically the manufacturer has brought together a studio viewfinder and a Blackmagic Pocket Cinema 4K in the same device. So the underlying tech is not that groundbreaking or new.
• Read more: Best cinema cameras
What that means in practice, however, is that you can now get cinematic images in live production, within a compact and lightweight camera. And that could be a game-changer for many video professionals.
For the full details of the new releases, watch the launch video from Blackmagic above.
What's on offer?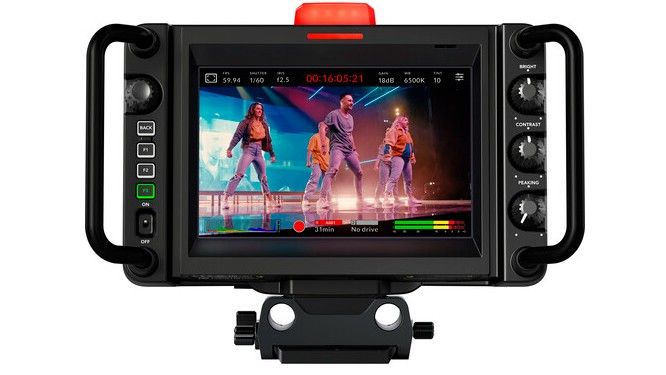 Made from a carbon fiber-reinforced polycarbonate chassis, the cameras boast a sleek and attractive design that contrasts nicely with the big and bulky devices many video professionals are used to.
The two cameras have the same look and design, and offer broadly the same capabilities, including the ability to shoot at 4K UltraHD (3840 x 2160) at 60 frames per second.
USB-C output enables you to record to an external SSD, although note that only the Blackmagic RAW format is supported. They also offer up to ISO25,600, a 4K sensor with 13 stops of dynamic range, and are compatible with the best Micro Four Thirds lenses.
As you'd expect, the more expensive Pro model is the more richly featured of the two. The big differences here include 12G-SDI (eight times the bandwidth of normal HD-SDI), professional XLR audio, a brighter HR LCD, 5-pin talkback and a 10G Ethernet IP.
So why buy the Studio Camera 4K Plus? Well, apart from being cheaper, it's designed to work with the Blackmagic ATEM Mini Pro switcher, which eliminates the need for some of the features in the Pro (such as the 12G-SDI input and the XLR audio inputs).
Pre-order the Blackmagic Studio Camera 4K Pro at Adorama (USA)
Pre-order the Blackmagic Studio Camera 4K Pro at B&H (USA)
Pre-order the Blackmagic Studio Camera 4K Plus at Adorama (USA)
Pre-order the Blackmagic Studio Camera 4K Plus at B&H (USA)
Read more:
Blackmagic Pocket Cinema Camera 4K review
Blackmagic Pocket Cinema Camera 6K review
Blackmagic Pocket Cinema Camera 6K Pro review
Blackmagic Ursa Mini Pro 12K review
Blackmagic ATEM Mini review
Blackmagic ATEM Mini Pro review
Blackmagic Design DaVinci Resolve 17 review