Japanese filter specialist Marumi is promising that one size fits all with its new family of filters. The M100 Magnetic Filters simply snap onto the slim holder using magnet power. The magnets are so powerful, that up to three different filters can be stacked on top of each other.
Nine different 100x150mm grads are being introduced in the system. There are soft grads, hard grads and reverse grads... and each of these is available in three different strengths. The system is apparently particularly suited to the use of graduated ND filters, as it allows the user to easily align the ND area with the horizon by sliding the filter up and down on its magnets.
There will also be nine different strengths of square 100x100mm neutral density (ND) filters – from a two stop ND4 up to a 15-stop ND32000.
Finishing off the family, is a circular polarising filter.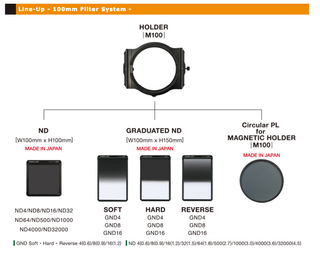 The M100 Magnetic Filter Holder is designed to fit a wide variety of lenses, and is supplied with adaptor rings to fit 72mm, 77mm and 82mm threads; stepping rings are available for other fittings. The mount is an ultra-slim design with a depth of just 10mm, which claims that it can be used on 16mm full-frame lenses without any vignetting..
The magnetic system not only means the lens fits securely, but through the use of a foam gasket, is said to eliminate the light leak issues that often befall other slot-in style filters. The polarising filter is designed to fit between the Holder and the lens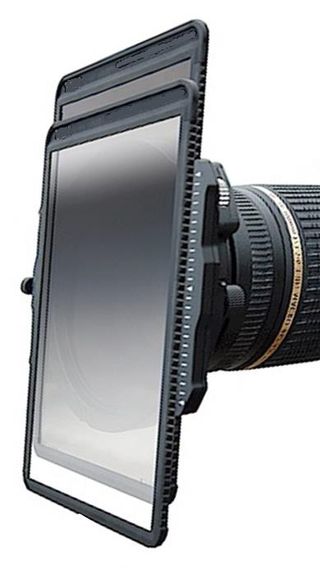 Pricing
The recommended retail prices for the system is as follows:
• Magnetic Filter Holder System £125.94
• Graduated filters £199.98 each
• ND filters £179.94 each
• Circular polarising filter £114.96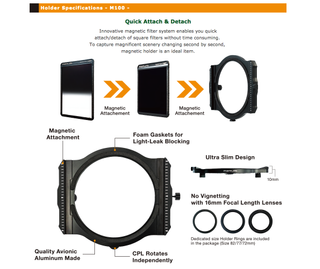 Read more:
Best ND grad kits