Manfrotto's huge range of camera bags has just received a substantial makeover, in the shape of the new Advanced2 range. The range consists of 5 shoulder bags, 3 holster bags and 6 backpacks, so there's no shortage of options to suit the size and amount of gear you need to carry - whether that be DSLR or mirrorless gear, gimbals, drones, or even a travel tripod.
As the name suggests, this is the second iteration of the Advanced range, and it follows the same theme of being designed for amateur photographers who want to blend in when shooting in the city. The bags are also designed to offer maximum functionality and reliability at accessible prices.
The Advanced2 range is priced between £27.95 and £149.95. US pricing and availability has yet to be announced.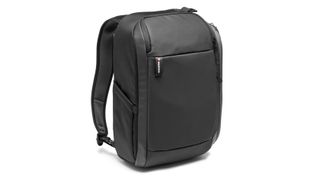 The Advanced2 backpack range kicks off with the £89.95 Advanced2 Compact backpack. It's sized to suit a mirrorless camera and one or two lenses, a 13" laptop and a compact tripod. Photo gear is stored up top, and there's a free are beneath to store personal effects.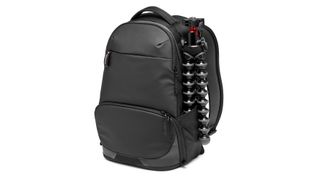 Step up to the Advanced2 Active backpack and you'll get a similar capacity for camera kit, but the storage compartments are flipped, with camera and lenses stored at the bottom of the bag, and other items above. There's also space outside for a tripod and water bottle. The Advanced2 Active is available for £99.95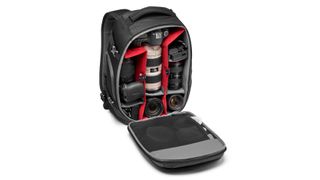 The larger Advanced2 Gear backpack is priced at £114.95 and offers a full access front compartment for a full-frame CSC, three extra lenses, foldable drone, handheld gimbal, as well as a 15" laptop and tablet. Personal items are kept in a compartment above, and a full-size travel tripod attaches on the outside.
The £134.95 Advanced2 Fast backpack holds a pro DSLR, four lenses and flash in a full-access photography gear compartment you can reach from 3 sides and which cam also open completely. Personal items are kept at the top and on the side, and there's a sleeve for a 15" laptop and tablet, while a travel tripod can travel on the front.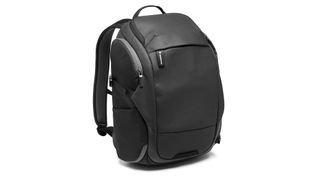 The Advanced2 Travel backpack holds a DSLR, four extra lenses, or a full-frame mirrorless camera with two additional lenses and a foldable drone, 15" laptop and tablet –safely organised in two quick-access side compartments, with other items at the top. The side compartments open fully, and the bag features on-the-go gear access by slipping the straps off your shoulders and rotating the pack to one side. There's also a dedicated pocket for a gimbal or tripod. The RRP is £142.95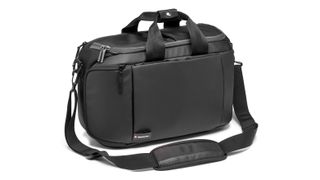 The Advanced2 Hybrid backpack is the priciest backpack in the range, but it's still a very reasonable £149.95. It sports a new form factor in the Advanced2 collection, created to maximise versatility. It's designed to easily transform from backpack to shoulder bag to top handle carry bag. This model has a removable camera insert and dedicated pockets to organise personal gear.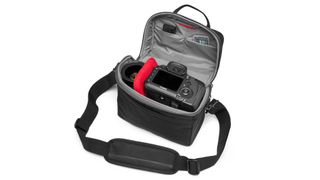 Prefer to keep your gear by your side? The Advanced2 Messenger offers handy quick access, and a chest stabiliser strap for extra comfort and additional stability. Then there are the Advanced2 Shoulder bags, available in four sizes, and if you want to travel really light, there are three holster-style bags for carrying just your camera and preferred lens - priced from £27.95.
Read more: