Apple Black Friday & Cyber Monday deals (still available)!
Get the best Apple Black Friday deals and Cyber Monday deals on iPhone, iPad, iMac, AirPods, MacBook and more!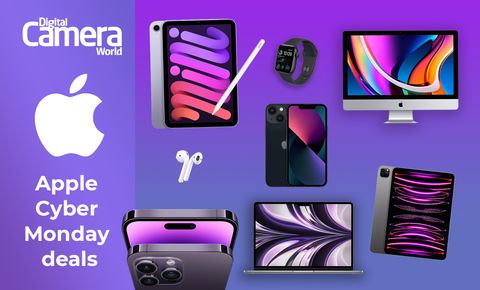 (Image: © Future/Apple)
Even though Black Friday is over, some Apple Black Friday deals are still going strong. So many retailers offered reduced prices on Apple devices, from entry-level iPhones to powerful MacBook Pro laptops.
We've been sifting through the best Apple deals in the US and the UK and have listed around 20 of our favorite deals directly below.
Apple has had a busy year, launching the iPhone 14 lineup, new AirPods, a new iPad, iPad Air and iPad Pro, MacBooks and the Apple Watch 8. There were great Apple Black Friday deals on previous devices and we even saw this year's products getting (modest) cuts.
Not sure what iPhone, iPad or MacBook to get? Check out our iPhone generations (opens in new tab), iPad generations and MacBook (opens in new tab) guides for expert advice!
Black Friday Apple deals: Best deals (US)
• iPhone 14 Pro: FREE iPad, Apple Watch, Beats headphones & $1,000 saving (opens in new tab)
• Apple Watch SE (1st Gen) GPS, 40mm: Save $130 | $149 (opens in new tab)
• iPhone Case OtterBox Defender: $54.95 | $19 (opens in new tab)
• iPad Pro 11 (2021): Save $100|$1,550 (opens in new tab)
• iPad Air (2022): £1,029 | £869 (opens in new tab)
• Apple Mac Mini (2018): Save $300|$499.00 (opens in new tab)
• MacBook Pro 16 M1 (2021): Save $500|$1,999 (opens in new tab)
• MacBook Air M1 (2020): Save $200|$799 (opens in new tab)
• MacBook Air M2: $1,199 | $1,049 (opens in new tab)
• MacBook Pro 13 (M2): $1,299 | $1,249 (opens in new tab)
• MacBook Pro 14 (M1): Save $400 | $1,599 (opens in new tab)
• MacBook Air M2 (2022): Save $150|$1,049 (opens in new tab)
• iPhone 14 and iPhone 14 Pro: Up to $750 eGift cards at Walmart (opens in new tab)
Black Friday Apple deals: Best deals (UK)
• iPad Air 2022 (2022) 64GB WiFi: £669 | £569 (opens in new tab)
• iPad Mini 8.3-inch (2021) 64GB WiFi: Save £110|£459 (opens in new tab)
• AirPods Pro (2nd gen): £249 | £229 (opens in new tab)
• iPad 10.2-inch (2021): Save £60|£309 (opens in new tab)
• MacBook Air M1 (2020): Save £120|£879 (opens in new tab)
• MacBook Air M2 (2022): Save £60|£1,109 (opens in new tab)
• MacBook Pro 13" (2022): £1349 | £1195 (opens in new tab)
• MacBook Pro 16" (2021): Save £200|£2,129 (opens in new tab)
• iMac 27-inch 5k retina (2020): Save £370|£1,429 (opens in new tab)
• Apple AirTag: Just £29 at Amazon (opens in new tab)
• Apple HomePod Mini: Save £10|£89 (opens in new tab)
• Apple Watch SE GPS 40mm: £249 at John Lewis (opens in new tab)
• Apple Watch SE GPS 40mm: £259 + £50 gift card (opens in new tab)
• Apple Watch Series 7 GPS 41mm RED: Save £70|£299 (opens in new tab)
Black Friday Apple deals: US retailers
Amazon: Apple TV 4K just $79 (save $100) (opens in new tab)
Adorama: More than $600 off MacBook Pro! (opens in new tab)
Apple: Get a free $250 Apple gift card (opens in new tab)
B&H Photo Video: Up to $300 off Apple Gear (opens in new tab)
Target: $50 off the latest Apple Watch 8 (opens in new tab)
Walmart: iPhone 11 now just $199 (opens in new tab)
Black Friday Apple deals: UK retailers
Amazon: MacBook Air M2 just £1,195 (opens in new tab)
Apple: Get up to a £250 gift card (opens in new tab)
Argos: Low prices on MacBook Pro 2022 (opens in new tab)
Currys: Apple Airpods for just £119 (opens in new tab)
John Lewis: Apple MacBook Air under £900 (opens in new tab)
Very: Up to £330 off MacBook Pro laptops (opens in new tab)