If you you can only have one lens, it should be a 24-70mm – the versatile, all-purpose 'standard zoom' lens that can cover you for most shooting situations.
Well, if you're a Canon owner then you're in luck, as this is one of the best Prime Day camera deals on offer right now: the Canon EF 24-70mm f/4L IS USM is just £629 – a massive £261 saving on its £890 price tag!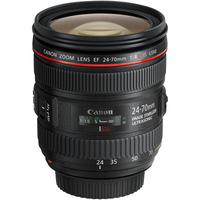 One of the best standard zoom lenses around, the Canon EF 24-70mm f/4L IS USM gives you a jack-of-all-trades focal range that covers you from wide-angle to light-tele shooting, giving you the scope to shoot landscapes, street photography, portraits and everything in-between. Best of all, it gives native performance on RF-mount cameras such as the Canon EOS R and Canon EOS R5 if you have the mount adapter.
While the f/2.8 'trinity' version of this lens is the one coveted by pros, there are a lot of advantages to this f/4 option – not least the price, but also size and weight. Unless you really need the faster aperture for subject separation or low light shooting, f/4 will be more than enough; in fact, for anyone shooting landscapes in particular, there's no point paying extra for the f/2.8 as you'll be stopping down anyway!
Read more:
Best Canon lenses
Best Canon standard zoom lenses
Canon EOS R review
Canon EOS R5 review