As surely as the sun rises, new patents will be uncovered spoiling camera manufacturers' carefully maintained secrecy. And this time it is Fujifilm's turn, with a new patent revealing that it has designed a Fujinon XF 500mm f/8 OIS lens.
Fujifilm rumors usually revolve around bodies more than lenses, but a new bit of sleuthing shows that the manufacturer has been working on a lens very similar in purpose to the very successful and well-received Canon RF 800mm f/11 IS STM (and its little brother, the Canon RF 600mm f/11 IS STM).
Japanese outlet Digital Camera Info has unearthed a patent describing the Fujinon XF 500mm f/8 OIS – which would have an equivalent focal length of roughly 750mm and an equivalent aperture of around f/12, with a 1.5x conversion to a full-frame sensor, making it very similar to the RF 800mm f/11.
The best Fujifilm lenses already comprise an impressive range of telephoto lenses, including the colossal Fujifilm XF 200mm F/2 R LM OIS WR. However, with photographers increasingly demanding smaller and more compact optics but without sacrificing image quality, these smaller aperture telephotos are one way to accomplish just that.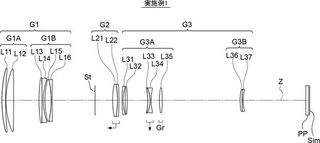 After the initial surprise at Canon's reveal, the photography world very quickly came around to its vision for these telephoto primes. We gave them glowing report cards and they made it onto our list of best Canon telephoto lenses.
As the saying goes, imitation is the sincerest form of flattery – so I am sure that Canon will be taking note that it might have started a trend for more affordable telephoto primes with narrower constant apertures. Canon itself said that we will be seeing other similar lenses added to its lineup in the future.
We do not mind lens manufacturers being 'inspired' by each other one bit, if we get more interesting new lenses. The camera market is hotly contested, and with an ever-decreasing number of photographers as camera phones sap hobbyists away, we are increasingly seeing new designs that capture people's attention and push the boundaries of what we would normally expect.
Take the well-trodden ground of 24-70mm lenses, for example. The Canon EOS R came out of the gates with the unprecedented Canon RF 28-70mm f/2L USM lens in 2018. And more recently, Sony has expanded the wide-angle view of a standard kit lens with its Sony FE 20-70mm f/4 G. Third-party manufacturers aren't sitting this one out, either, with the Tamron 17-70mm F/2.8 Di III-A VC RXD making waves for APS-C shooters.
We hope to see more of these lenses from Canon, Fujifilm and all the rest, as more choice is always beneficial – especially when it can hit multiple price points and opens up new photographic opportunities to more people.
Read more about Fujifilm in our guides for the best Fujifilm cameras, the best Fujifilm lenses, and the best Fujifilm GF lenses.