Think lightweight, affordable, fixed-aperture super-telephoto prime and you're probably thinking along the lines of a reflex/mirror lens like the Rokinon/Samyang 800mm. This type of lens plays tricks with mirrors to shoehorn long telephoto reach into a small physical size. They used to be quite popular a few decades ago but image quality was (and is) mediocre at best. The other option has more recently been a conventional super-tele prime like the Canon EF 800mm f/5.6 L IS USM, which is frankly enormous, weighs a hefty 4.5kg, and costs around £13,200/$13,000, putting it beyond the reach of most of us. At a fraction of the weight and cost, Canon's new RF 800mm f/11 lens aims for an ideal compromise.
Canon RF 800mm f/11 IS STM specs
Mount: Canon RF
Full frame: Yes
Autofocus: Yes
Image stabilization: Yes
Lens construction: 11 elements in 8 groups
Angle of view: 3 degrees 5'
Diaphragm blades: None
Minimum aperture: f/11 (fixed aperture)
Minimum focusing distance: 6m
Maximum magnification ratio: 0.14x
Filter size: 95mm
Dimensions: 102x282/352mm
Weight: 1,260g
Key features
Let's get the most glaring 'feature' out of the way first, in that this lens has a fixed aperture of f/11. Many might consider that rather too narrow, while others might be unimpressed that you can't alter the aperture in any way. However, the modest f/11 rating enables a relatively compact and lightweight build with smaller-diameter lens elements, and you're unlikely to want to stop down to a narrower aperture anyway. Taking the diaphragm assembly out of the mix enables further savings in weight, complexity and cost.
Another significant feature in the downsizing of this lens is that, like its smaller sibling the Canon RF 600mm f/11 IS STM, Canon has deployed its 'Diffractive Optics'. Also known as Fresnel or Phase Fresnel lenses, these are optical elements with a ridged surface laid out in concentric circles. They're typically used to focus lighthouse lamps and theatrical stage lighting, but can dramatically shorten the length of telephoto lenses, while also reducing lateral chromatic aberration.
Yet another space-saver is that the lens has a retractable design, enabling it to shrink down to a length of 282mm for packing away. A twist-action locking ring enables you to shorten the lens, or extend it to its full length of 352mm for shooting.
Autofocus is virtually silent, based on a lead-screw stepping motor system. Typical of this type of arrangement, the motor delivers fast autofocus for stills, along with smooth focus transitions for movie capture.
The importance of optical image stabilization is paramount with such a long focal length, especially in EOS R and EOS RP cameras that lack IBIS (In Body Image Stabilization). As such, the lens features a 4-stop optical stabilizer, the performance of which can be further enhanced when using EOS R5 and EOS R6 cameras that do have IBIS.
Build and handling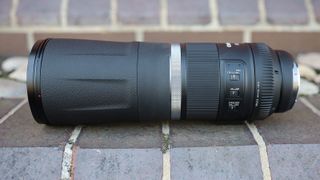 Although lightweight for an 800mm lens, build quality feels solid and sturdy. The electronically coupled focus ring works with smooth precision, as do the three switches for Stabilizer on/off, AF/MF focusing and autofocus range limitation, which locks out the short end of the range between 6m and 20m. That said, the minimum focus distance of 6m can feel a touch on the long side.
An additional control ring is positioned just in front of the manual focus ring and can be customised to give control over the likes of ISO setting and shutter speed. Naturally, you can't alter the aperture setting, but the lens works well in Tv (Time value) mode, coupled with Auto ISO. Using this combination, you can simply dial in your preferred shutter speed and Auto ISO will make the relevant adjustment for a correct exposure, within reasonable limits.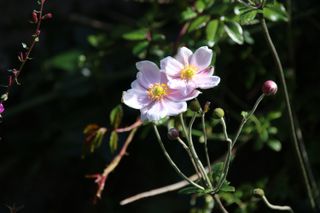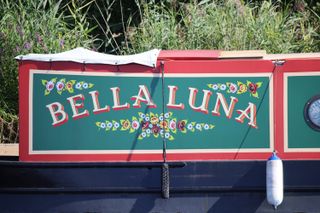 Unlike most L-series lenses, this one lacks any weather-seals, so you'll need to add a covering if, for example, you're shooting sports or wildlife in rainy conditions. Also like the vast majority of Canon's non-L-series lenses, this one comes without a lens hood, despite the fact it's really a necessity. The 'optional' ET-101 hood is sold separately, at a cost of around $55/£58.
For use with a tripod or monopod, the lens has a mounting socket integrated into the barrel, to enable a good balance, at least in landscape orientation shooting. Unlike a more conventional tripod mounting ring, however, you can't rotate the lens within a collar for portrait orientation shooting.
Lab results
Sharpness:
The sharpness scores in the two graphs below are produced by shooting a monochrome test chart covered in multiple sharp boundaries between black and white. This image is then assessed by specialist software, with the extent of blur on the contrast boundaries at the centre, mid and edges of the image converted into a spatial frequency value to determine how many line widths per picture height the lens is capable of resolving. A higher spatial frequency corresponds to a greater number of finer lines over a given distance that the lens can resolve - this number is the sharpness score.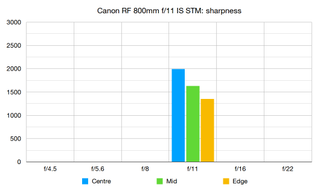 Sharpness is respectable in the centre of frame, and pretty good right to the corners. It's nothing special though. Many of Canon's RF-mount zoom lenses can produce superior sharpness, so given the RF 800mm f/11 has been optimized to be at its best at this single focal length and aperture, it's surprising that it isn't sharper.
Fringing: 1.52
The chromatic aberration scores are calculated using the same chart we use for measuring sharpness. This time the processing software assesses the sharp black-white contrast boundaries and determines the width in pixels of the colour fringe that divides black from white - the larger the width of the fringe, the greater - and worse - the fringing score. A score below 1 indicates fringing so negligible that it's unlikely to be noticeable in real-world shooting. A poor result is anything above 3, and denotes fringing that could well be distracting when viewing shots at full size.
The RF 800mm 1/11 produces marginally more firing than the RF 600mm f/11, but the amount is still negligible and should only be slightly noticeable when viewing high-contrast images under close scrutiny. Bear in mind that we assess fringing with all in-camera lens corrections disabled, so this score is a worst-case scenario.
Distortion: 0.74
At the top and bottom of our lens test chart are horizontal black bars that run its full width. A lens that bulges these lines towards the edges of frame produces barrel distortion, the degree of which is indicated by a negative score. Shrinking (pincushion) distortion, usually produced by a telephoto lens, produces a positive score. The higher the number - positive or negative - the greater the distortion. A score of zero indicates no distortion.
The RF 800mm f/11 produces minimal pincushion distortion that should not be visible in real-world shooting unless you shoot very geometric subjects.
Performance
An f/11 lens would really struggle on a DSLR in terms of autofocus during regular viewfinder-based shooting, if AF was even possible. With a mirrorless EOS R-series body, however, this lens's autofocus is rapid and consistently accurate. The 4-stop stabilizer lives up to its billing and we found we were able to get consistently sharp handheld shots with shutter speeds as slow as 1/60th of a second.
Image quality is very satisfying, with good levels of sharpness and contrast. Chromatic aberrations and distortion are quite minimal, even without using any in-camera corrections. The ET-101 hood is a must-have for minimizing ghosting and flare.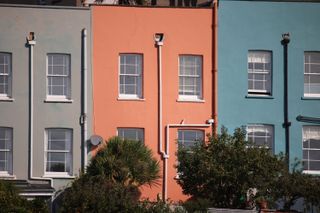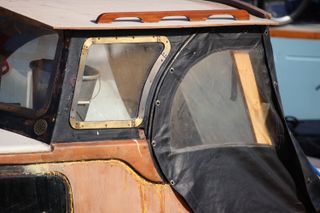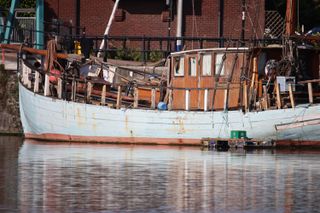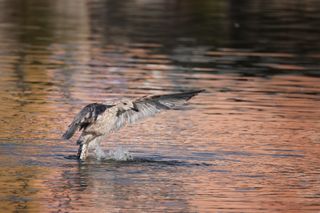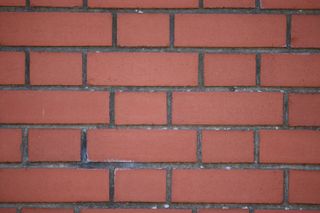 Verdict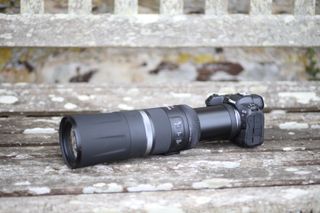 With a sub-$1,000 price tag, this is a highly attractive super-telephoto prime for any and all Canon EOS R-series full-frame cameras. Comparatively compact and lightweight, it's very easy to live with for an 800mm lens, both in terms of handheld shooting and for simply carrying around. The autofocus and optical stabilization systems help to deliver consistently sharp shots, and overall performance and handling are very good. The f/11 fixed aperture isn't necessarily a bad thing but, while the lens is compatible with 1.4x and 2x tele-converters, the reduction in aperture to f/16 and f/22 respectively might prove a step too far under anything but very bright lighting conditions. All in all, this is a very attractive and powerful telephoto lens and a smart buy at the price.
Read more:
The best Canon telephoto lenses
The best budget telephoto lenses
The best lenses for bird photography
The best monopod: the perfect support for telephotos and low light