The GoPro Hero10 Black is a great camera, but this deal is more than a little saving on a little camera – it is a massive saving on what amounts to a portable action movie studio!
Launched in late 2021, the Hero10 was a big step for the legendary action camera, with a new GP2 processing engine to provide better performance when navigating menus and – crucially – the HyperSmooth 4 image stabilization processing. GoPro's system-on-a-chip is custom silicon, and it can support up to 5.3K video at 60fps or 8x slow-mo at 2.7K.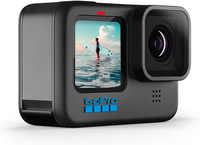 GoPro HERO10 Black Bundle |
was £390 | now £249.99
Save £140 The flagship 2021 GoPro action camera gets a big saving in this Prime Day deal. You don't just get the 5.3K mini video camera, you also get a spare battery, a case, a magnetic swivel clip, and the GoPro Shorty selfie stick.
Build-wise, the camera can take a pounding, that's what it's known for, but it's also great for bloggers thanks to the dual screens – a small forward-facing monitor helps you line up selfies (or re-assure your subject!).
This isn't just a minor discount because the HERO11 Black is now on sale. The newer version has a new 8:7 sensor, but unless you want to dive into multiple-format video-editing, the £399 HERO11 Black (with no accessories) looks quite pricey.
This, however, is a bundle that includes a case built for some rough-and-tumble, a tripod-grip, clip mount for action from the side of vehicles, and two batteries.
Compared to the miserable £50 discount GoPro is offering on the camera alone, which brings the asking price to the same £249.99 (one battery, no other accessories), this does seem more than tempting.
If you want to deep-dive your research a little more, check our list of best action cameras, or read the original GoPro HERO10 Black review, or a HERO10 v HERO11 review (spoiler: it agrees with me, and that is why there is only £50 difference!)