Godox is about to introduce a new LED light that replicated the fresnel spotlight strobes of yesteryear. Shown at IBC 2019, the S30 Focusing LED light allows you to control the spread of light from spotlight to floodlight in order to help photographers and filmmakers create theatrical effects.
But the most interesting of the light will be the optional accessories - and in particular the SA-P Projection Attachment which is designed to give a hard circle of light, or to project patterns of light across the frame using patterned 'gobo' stencils.
The S30 offers an adjustable beam angle using that can varied from 6° to 55° with the turn of a knob. The brightness can be steplessly adjust from 100% output down to just 10%.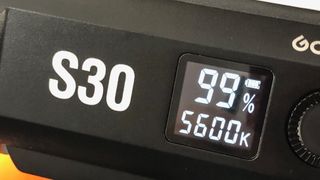 Power can be supplied by a mains adaptor, or by a standard Sony-fit lithium ion battery. Alternatively the unit can also be powered via a USB cable.
The Projection unit comes with an 85mm lens - but this can be swapped for wider or more telephoto 60mm or 150mm options. Godox's own gobo accessory set includes six different patterns. Other add-ons that will be available include a scrim set, barndoors, a framing shutter for creating quadrilateral shapes of light, and a iris diaphragm for adjusting fall-off.
The S30 will go on sale from October for $279. The optional projection attachment will be priced at $139.
Read more:
Studio portrait lighting: essential tips and setups explained
The best lighting kits for home studio or location photography