The Gitzo Légende Tripod and Backpack are designed to last a lifetime with a low environmental impact, which sounds ideal for anyone fed up of a modern throwaway culture. They use sustainable materials and are backed by an unlimited warranty.
Gitzo also says it will donate 5% of profits to Wild Shots Outreach, which provides education and scholarship programs for young people and opens up eco-employment opportunities in the environmental conservation field.
The Légende tripod is the especially interesting component in this kit. Gitzo says its parts are "100% replaceable" to make it "forever repairable" and that 70% of its parts can be replaced by the user. We're told it's a completely new tripod design. Gitzo says if any part needs replacing its customer service dept will send it, together with instructions on how to fit it.
The Gitzo Légende has four-section carbon fibre legs with aluminium leg locks and a ball head with Arca compatible quick release plate. It can slide into a side pocket of the Gitzo Légende Backpack, below. It follows a travel tripod design, where the legs fold upwards to enclose the center column and ball head for easier stowing when travelling.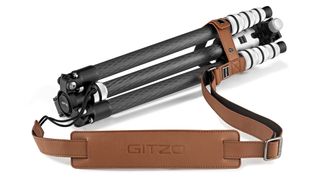 Gitzo Légende specifications
Weight: 1.45kg
Payload: 8kg
Leg angles: 25 + 75 degrees
Max height: 165cm
Minimum height: 43cm
Leg sections: 4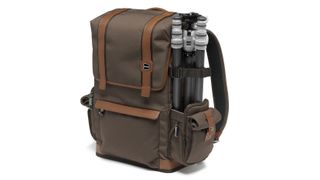 Gitzo Légende backpack and specifications
The Gitzo Légende backpack is made from 65% recycled materials and "eco-friendly" leather. It has a side pocket for stowing the Légende Tripod, side access for your camera gear and a laptop sleeve. It's split into two compartments, with a general purpose top compartment and a camera compartment below, with space for a full frame mirrorless camera with 70-200mm f/4 lens attached and two further lenses.
Weight: 1.69kg
Volume: 14L
Laptop compartment: 15-inch MacBook
Camera compartment: 23x28x10.3cm
Top compartment: 20x26x10cm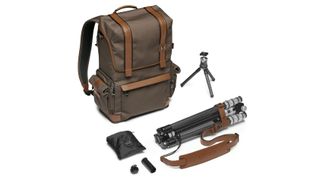 Gitzo's Indiegogo campaign and pricing
It's unusual for a big maker like Gitzo to use a funding platform like Indiegogo, but it it does enable the company to spread the word early and to build funds ahead of the final launch.
You can pre-order now ahead of the Légende's official launch in June 2021. The advantage of ordering now is that you get prices that are well below what you would normally expect to pay for Gitzo gear, with a Super Early Bird deal at $699 which includes the tripod and backpack and a Gitzo Mini Traveller table top tripod and other deals on the individual items.
Read more:
• Best travel tripods
• Best tripod guide
• Best camera backpacks
• Best camera bags
• Manfrotto Befree GT XPRO
• Gitzo 3-way Fluid Head