Manfrotto has topped off its Befree travel tripod range with a new, advanced Befree GT XPRO model which incorporates the 90-degree column mechanism previously seen only on larger Manfrotto tripods. You can use the centre column in regular 'vertical' mode or extend it and then rotate it through 90 degrees to act as a horizontal 'boom' for low angle and macro shots.
This combines with the Manfrotto's 180-degree foldable leg design to offer ground-level shooting with the legs extended sideways and a compact, portable size when they're turned through 180 degrees to fit around the centre column and the tripod head like all the best travel tripods.
This is the key difference between 'travel' and regular tripods. Regular tripods fold up with the centre column down and the tripod head exposed on the top, adding to the length. Travel tripods like the Befree GT XPRO have a much shorter, more compact folded shape.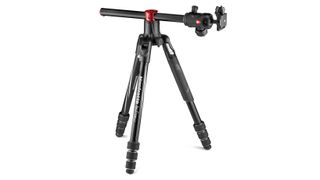 Manfrotto Befree GT XPRO design details
The Manfrotto Befree GT XPRO will be available in a cheaper aluminum version weighing 2kg and a more expensive carbon fiber option which weighs 1.76kg. Both are designed to support up to a 10kg camera/lens combination, making them suitable for both DSLRs and mirrorless systems with zoom lenses fitted, and both come with Manfrotto's M-lock leg locking system rather than bulkier flip-locks, and side pull selectors for adjusting the leg angles independently.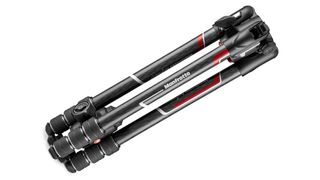 The aluminum and carbon fiber versions of the Befree GT XPRO come with a Manfrotto 496 Center Ball head, which has an independent pan axis and friction control. You also get a dedicated Befree bag to carry the tripod around in.
The Manfrotto Befree GT XPRO aluminum version will go on sale at a recommended retail price of £269.95/$289.99, while the carbon fiber version will be £409.95/$429.99.
Read more:
• What are the best tripods you can get right now?
• How to travel light with the best travel tripods
• These are the best travel cameras to get today
• Ther best carbon fiber tripods in 2019