Visiting foreign locations may be a short while away yet, but there's no harm in starting to think about your next photo trip.
Our cover feature offers 14 pages of hints, tips and expert advice for taking your best-ever travel shots.
Remember that you can also buy Digital Camera online, or make great savings of up to 34% with a subscription.
Other highlights in May's Digital Camera
If far-away horizons don't appeal, though, then you can exercise your creativity more locally with another selection of fabulous photo projects in Photo Active.
Learn how to create a spell with backdrops, how to shoot a small wedding and how using a dot sight can really transform your wildlife photography.
And Stay at Home serves up another tasty selection of photographic assignments, including how to make a time-lapse video, as well as the latest images to make the cut for the reader gallery.
And you'll find more incredible images in Hotshots, as we present our highlights from The GCCA Concrete In Life 2020 global photography competition. Prepare to be surprised just how good these images are!
Our Camera College series continues, with a masterclass on shooting motion blur.
Follow along with the tutorials then enter your best shot in the photo challenge, where one lucky reader can win a copy of Affinity Photo worth £23.99/$25.
You can also enjoy images from leading professionals Olga Michi, in our interview, and Harry Gruyaert – with his new book 'India' gracing bookstore shelves, the visual storyteller is our guest in Pro in Focus.
This month's bonus digital gift is a pack of 21 free actions for applying creative looks to your shots in Photoshop CC, then preparing them for printing. Jon Adams, our resident expert, will walk you through the process.
There are plenty of image editing tutorials to dive into this month, with more creative techniques for Photoshop, Lightroom and Camera Raw. (And if you're a Capture One user, then you'll find a project on enhancing skin tones in Photo Active.)
The Sony A1 helms our camera reviews for May – could this be the most capable camera we've ever seen? – and we also test the world's widest full-frame shift lens, the Laowa 15mm f/4.5 Zero-D Shift.
We also curate the best affordable prime lenses for shooting portraits, in our group test.
The latest issue of Digital Camera comes with an unrivaled selection of digital gifts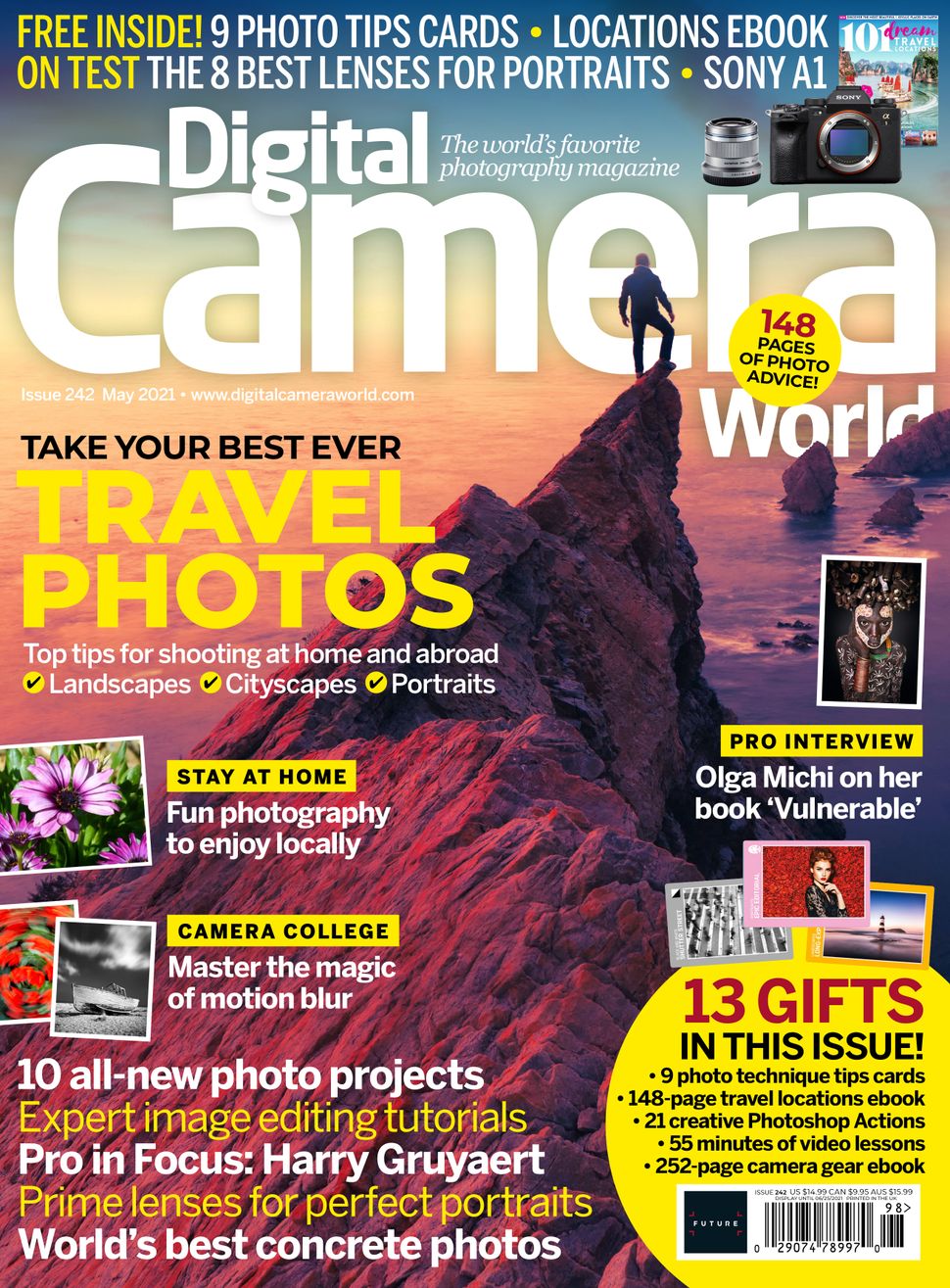 This issue's digital gifts include 21 creative actions for giving any picture a creative new look in Photoshop; a '101 Dream Travel Locations' eBook worth £9.99; and 59 minutes of bonus video tutorials covering Photoshop, Lightroom, Camera Raw and Affinity Photo.
Here's the full line-up of the bonus gifts with issue 242:
Nine all-new photo tips cards on landscapes, wildlife, macro – and more
21 creative actions for Photoshop CC – apply stylistic effects in seconds!
59 mins of video tutorials for editing in Affinity Photo, Photoshop and Lightroom
258-page Camera Buyer's Guide eBook packed full of buying advice
'101 Dream Travel Locations' eBook worth £9.99
Subscribe now
Every issue of Digital Camera magazine is packed with tips, techniques, pro advice, reviews, news and inspiration.
To make sure of your copy every month, subscribe at our online shop from just £12.50!
You can buy limited back issues of Digital Camera magazine in print at our Magazines Direct secure store.
Alternatively, there is a range of different digital options available, including:
• Apple app (for iPad or iPhone)
• Zinio app (multi-platform app for desktop or smartphone)
• PocketMags (multi-platform app for desktop or smartphone)
• Readly (digital magazine subscription service)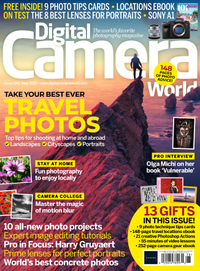 Digital Camera World is the world's favorite photography magazine. Every issue is packed with the latest news, reviews, tutorials, expert buying advice, tips and inspiring images. Plus, every issue comes with a selection of bonus gifts of interest to photographers of all abilities.