Black Friday may be over, but the Green Monday camera deals (opens in new tab) have now started to take off – but we have just spotted what we think is a pretty impressive deal on one of our favorite enthusiast drones available right now.
The Autel Robotics EVO II (opens in new tab)was launched right at the start of the year - just before the global pandemic struck. With its capability of shooting 8K video and shooting 48 megapixel stills this was always going to be one the best camera drones (opens in new tab) ever made. But as Covid started to create chaos, it took us some time to actually see and test out this exciting quadcopter for ourselves.
When we reviewed the EVO II in July we were mightily impressed by both the video quality and the collision avoidance system of this drone. And because it has proved such a popular model, it has often been hard to find in stock – and impossible to find at any type of discount.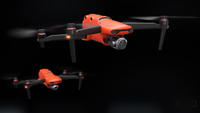 (opens in new tab)
Autel Robotics EVO II bundle $1,635| save $460 (opens in new tab)
(opens in new tab)This foldable drone boast that it can be deployed in under 30 seconds, and offers 40 minutes of flying time per charge, with a top speed of 45mph. It is its imaging skills that are groundbreaking, however, with the ability to shoot 8K video at 25fps, or 4K at 60fps - or 48 megapixel stills. It has 12 omnidirectional sensors that helps it navigate tight spaces safely and at speed. This bundle deal comes with a controller, case, spare battery and spare propellers.