DJI has announced two new gimbal stabilizers for DSLRs and mirrorless cameras aimed at enthusiast and pro videographers. The DJI RS 2 and RSC 2 are evolutions of the popular Ronin-S and Ronin-SC. Just like the Ronin-S, the RS 2 has been designed to support Pro DSLRs as well as compact cinema cameras. The lighter RSC 2, on the other hand, is built for mirrorless cameras and compact cameras.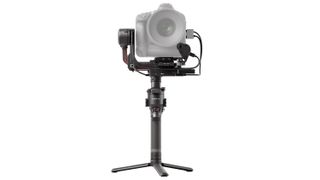 DJI RS 2
Weight is a big deal when you're shooting handheld stabilized footage for extended periods, so the DJI RS 2 uses carbon fiber throughout its structure to keep weight down to just 1.3kg - significantly lighter than the 1.86kg Ronin-S. Despite the gimbal's weight reduction, payload capacity is up from 3.6kg on the Ronin-S, to 4.5kg on the RS 2, giving you more flexibility with your choice of camera and lens combination. Balancing a heavier payload demands stronger motor performance, and by extension battery life would theoretically be compromised, but RS 2 manages to maintain the 12-hour runtime of the Ronin-S. There's also a new quick-charge feature that'll give you two hours of use from only a 15-minute charge.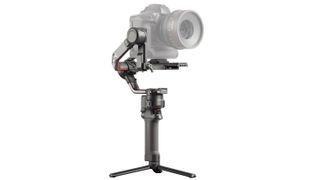 Stabilization smoothness is also improved, with a newly optimized Titan Stabilization Algorithm that reduces the need for manual user input while compensating for user movement and optimizing the gimbal tilt and angle. Furthermore, there's a SuperSmooth mode tailors the stabilization specifically for balancing larger lenses with focal lengths up to 100mm.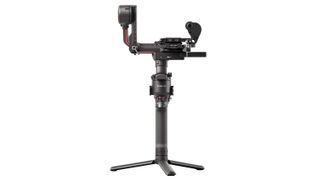 Despite the RS 2 being a gimbal targeted at experienced users, DJI has still included time-saving featutres like axis locks to simplify initial balancing, and to also enable easier transportation. And should you frequently need to swap your camera between the RS 2 and a tripod, monopod or slider, the RS 2's dual layer mounting plate is compatible with both the Arca-Swiss and Manfrotto QR plate standards. An additional balancing knob also allows you to fine tune the balance of your set-up without needing to unclamp an axis and risk your camera sliding completely out of balance.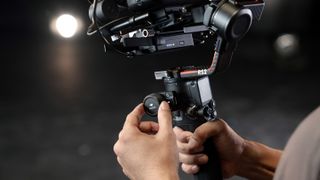 A 1.4" color touchscreen display provides crucial information about camera and gimbal settings, as well as displaying a live feed from your camera. The screen also lets you easily select advanced features like DJI's clever ActiveTrack function, as well as other inteligent shooting modes. On the front of the gimbal is a dial designed to improve focusing control, and it can be combined with DJI's optional Focus Wheel to give dual-channel focus and zoom control.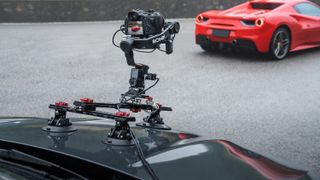 In-keeping with its pro ethos, the RS 2 can be attached to other video accessories like jibs, sliders and car mounts. Likewise, accessories such as grips and remotes can be attached to the RS 2 via its two RSA ports that double as NATO ports.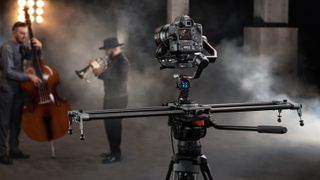 DJI RSC 2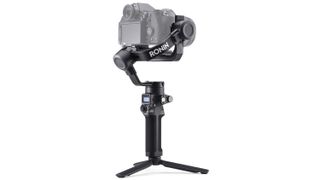 The RSC 2 is all about portability, as it boasts a new folding design not just for ease of transportation, but it also up new creative shooting possibilities. Vertical filming without additional accessories can now be achieved, and there's a new Briefcase mode, where the main gimbal arm can be loosened and slung forward to provide unique shooting angles. At 1.2kg, the RSC 2 is marginally heavier than the Ronin-SC, but battery life has increased by an hour to 12 hours. The folding design also reduces the folded footprint down to just 180 x 190mm - the same size as a sheet of A5 paper - and a significant reduction compared to the 220 x 200mm Ronin-SC.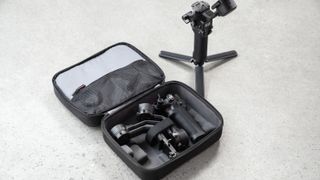 Max payload is up a whopping 50%, from 2kg on the Ronin-SC to 3kg on the RSC 2. This enables it to support heavier full-frame mirrorless cameras like the Panasonic S1H with a 24-70mm lens, as well as increasing the number of compatible cameras. As with the larger RS 2, the camera mounting plate will fit both the Arca-Swiss and Manfrotto standard, and the RSC 2 shares the same Titan Stabilization Algorithm that automatically smooths fine details in conjunction with the motorized gimbal to further enhance stabilization smoothness. There's also an OLED display for more intuitive control over camera and gimbal settings.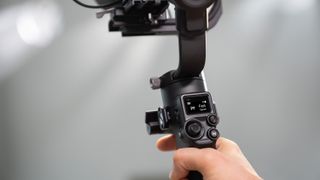 Both the DJI RS 2 and RSC 2 have been designed with compatibility with other accessories in mind. You can attach a wide range of DJI accessories, including a cheese plate, Focus Wheel, Twist Grip Dual Handle, RavenEye Image Transmission System, Tethered Control Handle, counterweight systems, and the 3D Focus System. 3D Focus uses Time of Flight sensors mounted above the camera to provide autofocus, enabling you to capture smooth, cinematic footage using a manual lens without relying on a second camera operator or focus puller.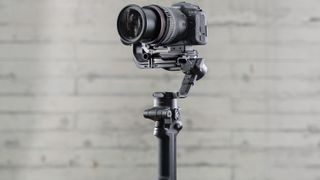 You can also control either gimbal via the DJI Ronin app. This can be used to move the gimbal using the virtual joystick and Force Mobile, where the gimbal mimics your mobile device's movement.
The DJI RS 2 and RSC 2 will be available from October 31st, either as a standalone gimbal or as a Pro Combo kit including a phone holder, Focus Motor, RavenEye Image Transmitter and a dedicated carrying case.
Expect to pay $849/£699/AU$1,299 for the RS 2 and $999/£839/AU$1,599 for the RS 2 Pro Combo. The DJI RSC 2 will be priced at $499/£389/AU$699 standalone and the RSC 2 Pro Combo has an RRP of $739/£569/AU$999.
Read more:
Best gimbal stabilizers
Best cameras for YouTube
Best cameras for vlogging
Best 4K cameras for filmmaking
Best camcorders
Best cinema cameras
Best camera for streaming
Best laptops for video editing
Best video accessories
Best microphones for vlogging
Best video tripods
Best camera sliders
Best on-camera monitors
Best LED light panels
Best reflectors
Best collapsible backdrops