Discover the most effective ways to shoot the new season in the new issue of Digital Camera magazine, on sale now.
Inside, you'll find 25 ways to shoot autumn – including tips from wildlife and nature specialists. Also in this issue: take an astrophotography masterclass with Alyn Wallace, explore the brilliant portraiture of Réhahn, and discover the benefits of full-frame cameras.
In the gear section, Nikon's exciting new full-frame mirrorless camera, the Z7, gets an exhaustive review, as well as Leica's M10-P and Tamron's latest 100-400mm telephoto lens.
If you're interested in alternatives to Photoshop, you'll find a head-to-head of rival photo editors in the Group Test, and the mag also reveals the best sling bags and monitor calibrators for your money.
The issue comes with a whopping 13 free gifts too.
Nine shooting tips cards with settings to help you capture great shots on location
Videodisc featuring 64 minutes of Photoshop and Lightroom video training
164-page Camera Shopper ebook packed full of buying advice
Landscape FX Pack for Photoshop, enabling you to transform scenic shots with just a few clicks
30 creative textures for enhancing your images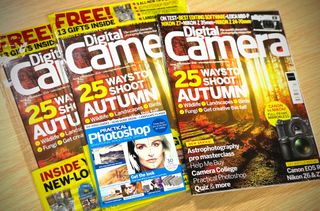 Subscribe now
Every issue of Digital Camera magazine is packed with tips, techniques, pro advice, reviews, news and inspiration. To make sure of your copy every month, subscribe at our online shop from just £26 for six issues!
You can buy limited back issues of Digital Camera magazine in print at our MyFavouriteMagazines secure store
Alternatively, there are a number of different digital options available, including:
• Apple app (for iPad or iPhone)
• Zinio app (multi-platform app for desktop or smartphone)
• Google Play (for Android devices)
• Readly (digital magazine subscription service)
Read more:
Join Digital Camera on Facebook
Follow Digital Camera on Twitter
Follow Digital Camera on Pinterest
Sign up to our free daily email newsletter