There's nothing worse than the fear of dropping or damaging your phone, but you won't need to worry about with Cyberphone – the transforming, titanium-bodied iPhone 11 from luxury phone maker Caviar.
Inspired by Tesla's infamous Cybertruck – the headline-making electric vehicle which was "built with an exterior shell made for ultimate durability" – the Caviar iPhone 11 Cyberphone has been designed by Russian engineers to bring ultimate durability to a smartphone shell.
• Read more: Best iPhone for photography
The entire phone is completely encased in a titanium body, which protects the device from external mechanical impact. While conventional cases protect the sides and back of a phone, the Cyberphone also shields the main display with an integrated folding titanium screen.
What's more, this folding screen means that the phone can transform into its own display stand for watching media or making Skype, Facetime or other video calls.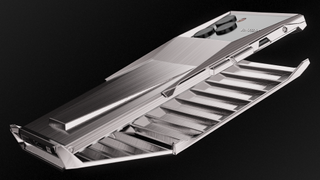 As you'd expect from Caviar, the phone hasn't just been engineered for practicality; it has been designed with a dramatic geometric aesthetic, and a retro-futuristic look that matches the striking lines of the Cybertruck.
Much like Caviar's other luxury iPhones – such as the $7,000 Titanic iPhone with a real piece of the HMS Titanic, or the $6,000 Mike Tyson iPhone with a piece of the boxer's trunks on it – the Caviar iPhone 11 Cyberphone is an extremely limited edition, with just 99 pieces being produced.
Available in a variety of configurations, prices start at $5,256 for the iPhone 11 Pro 64GB, and is also available in 215GB and 512GB options for both the iPhone Pro and Pro Max. Pre-orders have now opened on the official Caviar website.
Read more:
The best iPhone for photography in 2020: from the iPhone 7 Plus to 11 Pro
The best lenses for iPhone and Android phones in 2020: add on phone lenses
The best camera phone in 2020: which is the best smartphone for photography?