Love Apple? Love naval history (or James Cameron films)? Love spending money? Then you might be interested in these crazy $7,000 iPhone 11 Pros, which have a piece of the RMS Titanic on them.
The iPhone 11 Pro Titanic, from luxury limited edition Russian phone brand Caviar, features a fragment of the ill-fated ship. So now you can live the dream of having a piece of human tragedy stuck on the back of your phone while you check Facebook on the toilet.
• Read more: Best camera phones
"Today, after over a century, Titanic is still staying at the depth of the North Atlantic and remains one of the main mysteries of the twentieth century," says Caviar. "Every year, the time provides more and more new damages to the sunken ship; more time will pass and Titanic will disappear completely.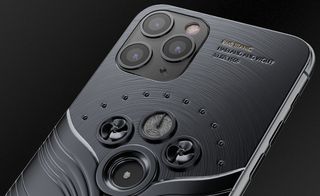 "That's why Caviar designers have set up the goal to be in time and got a fragment of Titanic and included it into the luxurious design of iPhone 11 Pro. Besides the true part from the real ship, the body is decorated with miniature rotating valves, an image of an anchor and ocean waves swallowing the giant ship."
The admittedly very pretty iPhone 11 Pro Titanic is limited to just 10 pieces worldwide, and will set you back $7,180-$7,870 (depending on storage size) for the regular Pro, and $7,640-$8,330 for the Max.
The madness, however, doesn't end there.
Love Apple? Love space history (or Cold War rivalry)? Love spending even more money? Then you might be interested in this even crazier $33,000 iPhone 11 Pro, which has a piece of Yuri Gagarin's spaceship on it.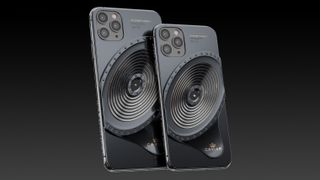 "Caviar designers created the design that can be perceived as a luxurious metaphor both for the space exploration, and the movement to the most ambitious goals regardless of all the laws of logic," says Caviar, without a hint of irony.
"But the main thing is that the smartphone's body is complemented with a true fragment of the Vostok spaceship. Just imagine! A small piece of the manmade technical masterpiece that had been in space will now be on your iPhone 11 Pro."
The iPhone 11 Pro Vostok-1 is limited to just a single unit worldwide, and costs $33,200-$33,890 for the regular version, and $33,660-$34,350 for the Max. Luckily, shipping is free… though we dread to think what the customs fees will be.
If you fancy other opulent iPhone 11 Pros festooned with diamonds, crocodile skin or 18k gold, check out the other luxury editions from Caviar.
Read more:
The best camera phone in 2019: which is the best smartphone for photography?
Best iPhone for photography: the iPhone 11 Pro or a cheaper, older model?
Apple iPhone 11 Pro review