Canon has provided an explanation and side-by-side comparison images to express the differences between its upcoming RF-mount portrait lenses, the 85mm f/1.2L and the 85mm f/1.2L DS (Defocus Smoothing).
While most photographers know exactly what to expect with the Canon RF 85mm f/1.2L USM, which was formally announced this week: it's a high performance, professional-grade optic that offers a portrait-length telephoto focal length with a fast aperture, delivering low light performance and shallow depth of field.
However, many have found it difficult to differentiate the DS version of the lens – mainly because it Canon hasn't made it explicitly clear exactly what Defocus Smoothing actually means.
Well, the manufacturer has now made it clear what it doesn't mean.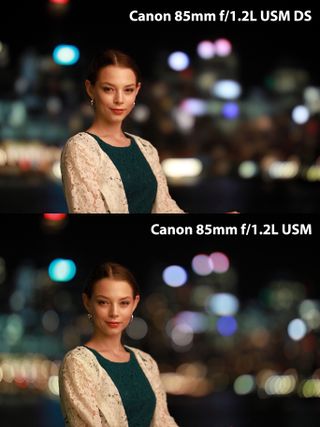 "The Canon DS lens is absolutely not a Soft Focus lens," wrote Canon Technical Advisor Rudy Winston, "unlike some special, portrait-oriented lenses we've seen in the photo industry over the years," which would include the company's own Canon EF 135mm f/2.8 Softfocus.
"Soft Focus lenses, historically, used optical methods to scatter light and soften the entire image, so that an in-focus subject – like a person's face – appeared softer, without post-production retouching.
"With the RF 85mm F1.2L USM DS lens, the in-focus part of the image remains tack-sharp, whether it's centered or off-center in the frame. Canon's Defocus Smoothing only impacts the appearance of out-of-focus elements, foreground and background."
In short, the optical elements in a traditional soft focus lenses applied a Gaussian blur-type effect across the entire image, throughout the plane – meaning that your subject, even when standing within the depth of field, receives the softening effects.
This DS lens, however, only applies its effects to the out of focus areas in the fore and background; the plane of focus, within which the subject stands, remains sharp and unaffected by the Defocus Smoothing properties.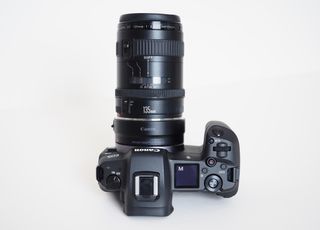 Unlike traditional soft focus lenses, Defocus Smoothing cannot be turned off; it is a property that will always be present in any image you take. While the effect will be less pronounced at narrower apertures, it cannot be deactivated to behave like a conventional lens.
Due to its optical construction, the DS lens also loses up to 1.5 stops of light compared to the standard version. This means that shooting at f/1.2 is more like shooting at f/2 or f/2.8 in terms of actual light transmittance.
So, the standard Canon RF 85mm f/1.2L USM should be your go-to lens for optimum low light performance; the Defocus Smoothing lens offers the softest out-of-focus areas and buttery smooth bokeh, but its reduced low light capability makes it better suited for studio or outdoor work where available light is abundant.
The Canon RF 85mm f/1.2L USM DS will be available in the second half of 2019, and "Canon USA anticipates" that it will retail at a higher price than the its conventional RF 85mm counterpart.
Read more:
Canon RF 85mm F1.2L USM review
Canon RF lens roadmap
Canon EOS R review