Portrait lenses are all the rage right now, but the new Canon RF 85mm F1.2L USM beats the rest with a maximum aperture of f/1.2. This captures 50% more light than rival 85mm f/1.4 lenses, and Canon claims its optical design also produces the highest resolution yet.
Wide-aperture portrait lenses are especially popular with commercial and wedding photographers because they give a very distinctive 'look'. The 85mm focal length lets the photographer stand back a little for more natural facial perspectives, while the fast maximum aperture gives razor-thin depth of field that makes your subject stand out sharply against a blurred background.
The Canon RF 85mm F1.2L USM is designed for the company's new full frame mirrorless EOS R and EOS RP cameras. Its development was first announced in February 2019 as part of the Canon RF lens roadmap.
Canon has been able to use the potential of its new RF mount to produce a cutting-edge optical design. Canon DSLR owners will have to wait until 2020 for any new EF DSLR lenses, according to reports, as Canon concentrates all its attention on its mirrorless range.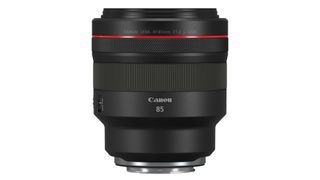 Design and technology
The new lens is only the second model in Canon's lens range to feature the company's unique BR (blue spectrum refractive) lens elements to effectively eliminate troublesome axial chromatic aberration (which was quite a problem in its old 85mm f/1.2 DSLR lens) – the other is the Canon RF 50mm F1.2L USM. This is not like regular 'lateral' colour fringing around objects which is easily corrected in software, but a softer coloured outline around defocused shapes that can't easily be processed out.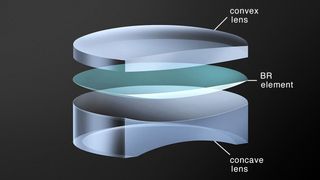 Autofocus speed will be a priority for candid portrait and wedding photographers and the Canon RF 85mm F1.2L USM works alongside Canon's on-sensor Dual Pixel CMOS AF technology, using the same ring-type USM AF motor as the RF 50mm f/1.2L USM lens and a new microprocessor, CPU and firmware to increase data transfer speeds for the EOS R for faster operation and autofocus. The result should be faster AF acquisition and subject-tracking, and low-like AF operation down to -6EV (EOS R) or -5EV (EOS RP).
Like other Canon RF lenses, the Canon RF 85mm F1.2L USM will come with a programmable control ring, which can be used for shutter speed, aperture, ISO or exposure adjustments. It will also have a full-time manual focus ring (with no need to switch to a separate manual focus mode), Canon's ASC (Air Sphere Coating) to prevent flare and ghosting and traditional L-series weatherproofing. The minimum focusing distance is 0.85m (2.79 feet).
All of this will be welcome news to photographers who've already switched to the Canon RF system or are thinking about doing so. By releasing a number of high-quality RF lenses quickly, Canon is rapidly positioning its new mirrorless full frame camera range as one of the top professional camera systems going forward.
Not surprisingly, Canon's new flagship portrait lens won't be cheap, with a price of $2,699.00 / £2,799.99 / €3,219.99. To add insult to injury, if you want the ET-89 lens hood too, that will cost you a further £69.99/ €79.99.
The Canon RF 85mm F1.2L USM will go on sale in June 2019.
Read more:
• The best mirrorless cameras you can get right now
• The best cameras for professionals
• Canon RF lens roadmap: everything we know so far