Canon has been teasing us about the EOS R5 since February this year and now the new 'king of video' is available to buy. So grab this unmissable August/September 2020 issue of Australian ProPhoto to get your first glimpse of not only the EOS R5, but it's more affordable EOS R6 sibling as well.
We tell you all you need to know about the two new full-frame mirrorless flagships and why they're causing such a stir in the photography world. We've listed all the main features and specs so you can decide for yourself whether either of the cameras are worth upgrading to.
That's not all though: elsewhere in the magazine we find out if Sony has captured the top spot in the interchangeable lens camera market with its megapixel monster, the Alpha A7R IV. ProPhoto editor Paul Burrows takes it on a test ride to see how the 61.2MP high-res full-frame sensor performs. Is this camera right for you? Find out in our in-depth review.
If you're keen on upgrading your photo editing setup, you're probably looking into 4K monitors that won't break the bank. Check out our review of the 32-inch BenQ SW321C PhotoVue monitor to see if it fits into your workflow and budget.
Also in this issue, photographer Darrian Traynor explains the ups and downs of being a freelance photographer in an exclusive interview with ProPhoto. And, if you're still homebound due to the coronavirus pandemic and looking for inspiration, take some from the winners of the Pink Lady Food Photographer of the Year 2020 awards.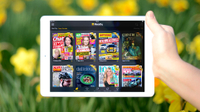 Get the digital edition today!
ProPhoto's print edition is sold through all good newsagents across Australia, but you don't need to leave your house to get a copy. You can download the magazine in digital format from Zinio right now for the ultimate in convenience. You can purchase a single issue, or subscribe for a full year and automatically receive every issue as soon as it's released directly onto your phone, tablet or PC.
For more details, simply click on the image below.


Subscribe to the print edition
Published continuously since 1937, ProPhoto is Australia's top magazine for professional photographers, emerging artists and students of photography. The magazine is published bi-monthly, with print subscriptions available from Future Australia's dedicated Techmags website.