The lines between a stills camera and a video camera are blurring – in fact, they're so blurry now that the word 'hybrid' has become common parlance in the photography world. But what really is a 'hybrid camera'?
You'll find out in the latest issue of Australian Camera, available on shelves now!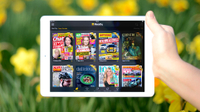 INSIDE THE MARCH/APRIL 2021 ISSUE
Pro review: Why Sony's A7S III is as good at stills as video
It's designed to be a purist's video camera but can it be a true hybrid? Australian Camera editor Paul Burrows put the Sony A7S III through its paces to find out.
Go longer for less: How well do Canon's fixed f/11 supertelephotos work?
Using a fixed f/11 aperture on supertelephotos is a controversial move by Canon, but has it paid off? Can the Canon RF 600mm and RF 800mm f/11 lenses perform well in the real world? Find out in the latest issue of Australian Camera.
Anthony Gordon on the power of a story told in pictures
Australian filmmaker and photographer Anthony Gordon has combined his passion for imagery and people to create an internationally successful video production company.
Also in this issue
Canon's lens innovation doesn't stop at the RF 600mm and 800mm f/11 lenses. The company's new RF 100-500mm is also... well, different. We find out if it's worth the investment. There's also a new type of Fujifilm camera available now and we've put it to the test. Can the mid-range Fujifilm X-S10 attract the attention of DSLR users looking for a mirrorless upgrade?
Plus lots more
We take you down memory lane and discuss the rise and fall of the compact film camera that made waves way back when, and also introduce you to Victor Hasselblad – the man behind one of the most popular camera brands today. We pay tribute to Photokina, the world's largest camera fair that recently announced it was shutting shop after 70 years, and keep you up to date with all the new gear to look forward to.
Subscribe to the print edition
Published since 1979, Australian Camera is the country's premier photography magazine for enthusiasts and hobbyists and, since 2010, has been a member of the prestigious Technical Image Press Association (TIPA) – a global group of photography magazines selected for their high standards of content, production and independence.
The magazine is published six times a year (or bi-monthly), with the subscription also including an annual special issue called the Australian Camera Handbook. This offers a look into the year's most popular reviews and includes exclusive new content as well.
If this sounds like something that will keep your creative juices flowing, then print subscriptions are available from Future Australia's dedicated Techmags website.


Get the digital edition today
Australian Camera's print edition is available at all good newsagents Australia-wide, but for the ultimate in convenience, it's also available for immediate download in digital format from Zinio, providing instant access on your phone, tablet or PC.
You can purchase single issues individually, or subscribe for a full year and automatically receive every issue as it's released. For more details, simply click on the Zinio logo below.