We'll be updating this Apple event 2020 article with all of the latest news and reveals, so make sure to refresh the page every so often to see the latest updates!
The Apple event 2020 is over and we saw some exciting products revealed today, including the Apple Watch 6, the updated iPad Air and the updated iPad 8th generation.
"But where is the iPhone 12?" we hear you ask. Well, after months of speculation and rumors, it seems that the iPhone 12 will be deviating from its traditional September release date. It's not clear exactly why this is, but it's likely to have something to do with the rumors of production delays that we've been hearing about for quite some time.
• Read more: Best camera phone
We were expecting to see the appearance of Apple AirTags, which have been rumored for quite a while. This would be Apple's answer to Tile, which is already a lifesaver for photographers looking to keep their kit safe. However, a native Apple version of Tile might prove even more popular for those who like to keep their technology in the same system.
Unfortunately, it seems that, once again, Apple has decided to make us wait for the AirTags. However, perhaps we'll see them appear when the iPhone 12 is finally announced?
Read on below to see exactly what Apple announced today at their latest event!
Apple Watch 6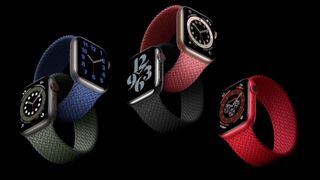 The announcement of the Apple Watch 6 also brought some new information about the Watch OS 7. Apparently, a new sleep app will use motion sensors to measure how you sleep. It'll even include a motion sensor to measure how long you wash your hands. In addition, VO2 Max values is one of the best ways to measure overall health. The Watch OS 7 can measure a full range of VO2 Max. You'll even get a notification if your VO2 Max drops to lower levels.
Apple Watch 6 has a few new colors, including a great looking red. New health sensor will measure Blood Oxygen levels from your wrist. The new health sensor shines infrared light, measuring the light that is reflected back. The new app will let you take a measurement in just 15 seconds. It also takes periodic background measurements – even while you sleep.
The Apple Watch 6 will be 20% faster than the previous generation. It'll also have a screen that's 2 and a half times brighter outdoors when wrist is down, allowing users to see it even in bright sunlight. Keen hikers will also be happy to know that you can see elevation change in real time on watch face.
The Apple Watch 6 will also have some interesting new watch face designs. Photographers will be interested to see that Lume will have a display that seems to show golden hour.
There will also be some new straps, including the Solo Loop. This features no clasp, no buckle, no overlapping parts and is just one continuous piece made from custom silicone. It's stretchable, durable and swim-proof. It'll be available in range of sizes and 7 different colors.
Apple Watch 6 will also introduce Family Setup. One of the features will include the ability to specify what contacts your kids communicate with. There will also be automatic location notification and School-Time Mode to help kids concentrate. Family Setup will require a cellular model and is designed to give kids more agency and parents more peace of mind.
The Apple Watch 6 will begin at $399 / AU$599. It's available to pre-order now and you can pick it up on Friday 18 September.
Apple Watch SE
The Apple Watch SE will have the S5 chip from the Apple Watch 5 – it'll also be capable of Family Setup if its a cellular model. It also has the same GPS, altimeter and accessibility sensors. It'll be twice as fast as the Series 3 and will begin at $279 / AU$429.
iPad (2020) 8th generation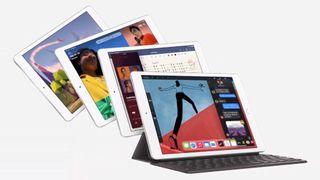 The updated iPad 8th generation will include the A12 bionic chip, which delivers a powerful CPU performance – 40% faster CPU in fact! It also delivers a 2x jump in graphics, which is great for photographers working with high res content. Apple boasts that the 8th gen iPad will be 2x faster than top selling Windows laptop, 3x faster than the top-selling Android tablet and 6x faster than the top selling Chromebook.
Interestingly, Neural Engine for machine learning is coming to iPad 8th generation. This is capable of 8 trillion operations per second. The iPad 8th gen will work with full size keyboards and the Apple Pencil. iPadOS 14 will also bring new capabilities to iPad and Apple Pencil, even being able to understand what you're writing. Shape recognition will help you draw perfect circles. Plus, you can even copy handwritten notes and paste them as text in other apps.
The iPad 8th generation will feature a 10.2" retina display and will start at $329 / AU$499 for general consumers and $299 / AU$469 for education. It's available for pre-order today and can be picked up on Friday 18 September.
iPad Air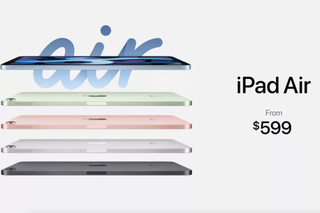 The new iPad Air will feature a completely updated design, featuring an all-screen display. It will come in 5 colors, including Green, Sky Blue and Rose Gold. It'll have a Liquid Retina display that will measure 2360 x 1640, which is 3.8M pixels. The screen will also feature full lamination, True Tone technology and antireflective coating. As previously rumored, the Touch ID will now be on the Power button and there will be no home button anymore.
The iPad Air will include a brand new A14 Bionic chip that features 5 nanometer technology. There is 11.8 billion transistors in this 5 nanometer chip, which means that there is increased performance in every aspect of the chip. Apparently there will be a 40% faster increase over the previous iPad Air and a 30% increase in the graphics performance. The new iPad Air will have a 2x faster graphics performance than best-selling laptop.
Interestingly for photographers, Apple's Neural Engine will enable 'ML Super Resolution'. This is a feature that will define edges to effectively increase the resolution of a photo (although it'll be interesting to see how this will work in real life – it also seems that this will be through the third-party app Pixelmator).
The front-facing camera on the iPad Air will have a 7MP sensor and an f/2.2 aperture. It will feature Smart HDR and will support video capture at 1080p 60fps. Meanwhile, the back of the iPad will have a 12MP camera with an f/1.8 aperture. It'll be capable of recording 4K video at 60 fps – plus there will be 240 fps slow motion video and improved video stabilization as well.
The iPad Air will start at $599 / AU$899 and will be available beginning from next month.
iOS 14 / iPadOS / Watch OS 7
And finally, iOS 14 will be released 16 September, featuring App Library and App Clips. iPadOS will also be released, with new capabilities for iPad and Apple Pencil. We'll also see the release of Watch OS 7, which will allow users to discover and share watch faces. It will also have automatic hand washing detection, new exercise metrics and more. All of the products announced today will ship with these new OS updates.
Read more
Best lenses for iPhone and Android phones in 2020: add on phone lenses
Best budget camera phone: these are the best cheap camera phones right now
Best iPhone for photography in 2020: from the iPhone 7 Plus to 11 Pro