The image stabilization systems in modern cameras and lenses are better than ever – but even the best IS tech is no match for a good gimbal. And now you can firm up your filmmaking with this amazing Amazon Prime Day 2020 (opens in new tab) offer.
The fantastic DJI Ronin-SC Pro Combo Gimbal Kit is currently just £289 (opens in new tab) – a massive discount on its usual £400 price!
The DJI Ronin-SC Pro (opens in new tab) is one of the best gimbals (opens in new tab) you can buy for mirrorless cameras and DSLRs, with a huge 5.5kg payload – if you're serious about shooting video, this will make an immediate and impactful improvement on your footage!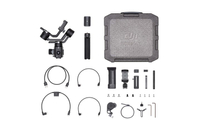 (opens in new tab)
DJI Ronin-SC Pro Combo (opens in new tab) | £289 | save £126
Shipping with the focus wheel, focus motor and the rod mount, along with an RSS splitter and gear strip, the DJI Ronin-SC Pro Combo is the complete filmmaker's kit for mirrorless systems that usually costs over £400. With a payload of 5.5kg, this gimbal stabilizer can be used with practically any full-frame DSLR or mirrorless set-up.
Ends midnight 14 October BST
Read more:
Amazon Prime Day 2020 (opens in new tab)
Best gimbal heads for tripods (opens in new tab)
Zhiyun Smooth X gimbal review (opens in new tab)