A flashgun for just £22? You heard that right! The Neewer TT560 flashgun is now just £22.09 (opens in new tab), and at this price is simply a no-brainer for your camera bag.
Neewer is a trusted name for great value photography kit, and the TT560 is yet another example of an affordable yet capable piece of equipment that every photographer should have in their arsenal.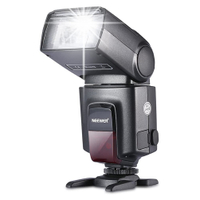 (opens in new tab)
Neewer TT560 flashgun | was £40.99 | now £22.09 (opens in new tab)
Save £18.90 Flashguns can run hundreds of pounds, so this Neewer strobe is a no-brainer! With a guide no. of 33 and an articulating head, it's a must-have for your kit bag.
The Neewer TT560 is an absolute bargain, but it's also a great tool to get the job done. With a guide number of 33 (ISO100) it gives you great bang for your buck, and with a tilting and articulating head you can take full control and bounce the flash to avoid flat straight-on lighting.
The best flashguns (opens in new tab) can run you hundreds of pounds, but with a strobe this good for this cheap you'd have to be crazy not to add at least one to your camera bag!
Read more:
Prime Day camera deals (opens in new tab)
Amazon Prime Day deals on everything else (opens in new tab)
Best photography lighting kits (opens in new tab)