At Digital Camera World, we make our living by using, testing and writing about cameras. However, photography is our passion – we were taking pictures long before we got paid for it, and we'll be taking pictures long after we've retired.
So, when we're not putting kit through its paces in the lab, what do we take pictures of in our downtime? Left to our own devices, what do we point our cameras at – and do we follow our own advice and photography tips when it comes to composition, exposure and post processing?
We thought it would be interesting to share the best photos we've ever taken, both as a bit of fun and to give you an insight into what the team likes to shoot when we're off the clock!
1. 'Bonne idée, Bona Dea' (Saunderton, 2014)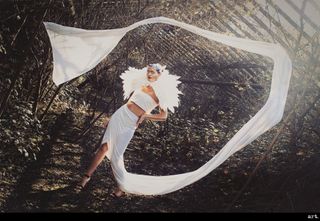 Firstly, a confession: I'm a portrait photographer. From the first time I picked up my Canon AE-1 to when I broke into the industry working for a fashion photographer, I've always taken pictures of people. So there will be a lot of portraiture in this list, though I've tried to mix it up a little bit!
I shot this when I was two months into my photographic apprenticeship with Damian McGillicuddy, on an assignment for Olympus. We were shooting at a TV and film location in southeast England, and it was my first time working with elaborate styling and bespoke outfits – and also my first time dressing a set! Arranging that dress on the branches was quite the faff.
There is a lot that I would do differently if I shot this image today, but I don't know if 'different' would be any better – though I'd definitely shoot wide open and blur the heck out of that background! Shot on the Olympus OM-D E-M5 Mark II at 35mm (using the Olympus 17mm f/1.8).
2. 'Shadows smile, dark and wild' (London, 2016)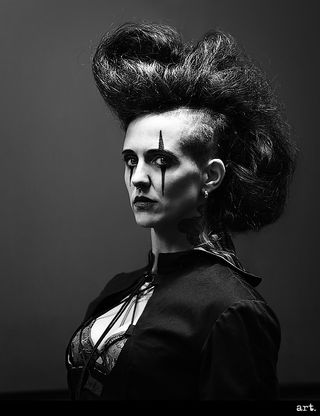 I love portraits, and I especially love character portraits. Sometimes a character portrait means an artificially stylized and exaggerated portrayal a person, but sometimes you work with a client who naturally is a character – and you're fortunate that all you have to do is press the shutter.
This was on a job I was shooting for a couturier in London, and one of the models was an alternative musician. After I'd reeled off a set in her fantastic outfit, I just had to get a dark and moody portrait. So we snuck off to a corner of the studio and I fired of a few frames – a couple in color, but this was screaming for a black and white so I set my camera to mono.
I wanted to keep my ISO at 200 but only used the existing light, so I had to slow the shutter down to 1/25 sec – but that wasn't a problem with the image stabilization on the E-M5 Mark II. Taken at 150mm (on one of my favorite portrait lenses, the Olympus 75mm f/1.8).
3. 'All ears' (Hwange, 2019)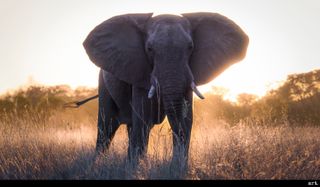 Like a lot of people, I've had a lifelong affinity for elephants. I spent a lot of time around these magnificent creatures in 2011, when I spent a week at Boon Lott's Elephant Sanctuary in Sukothai, Thailand. This was before I was taking "proper" pictures, though, and combined with my rather ancient Canon PowerShot I have some nice snaps but nothing I'm really proud of.
So when I had a chance to visit Zimbabwe last year on a photographic trip with Wilderness Safaris, I couldn't wait to finally take some elephan-tastic shots. This was actually the very first frame I took, not long after landing on a tiny airstrip in Hwange National Park, where we spotted this beauty as the sun was going down behind it.
It was taken on the Olympus OM-D E-M1 Mark II at 250mm (using the Olympus 40-150mm f/2.8 Pro). You can check out more photos in my write-up to see what A Frican Good Time I had.
4. 'Deckard' (Bristol, 2019)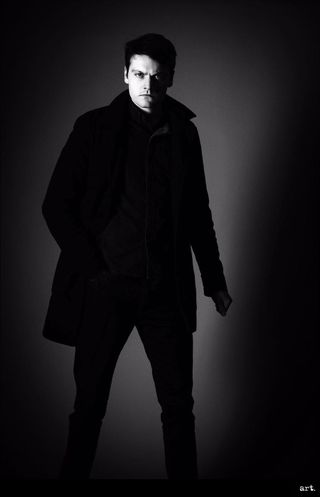 The majority of my portraiture features female subjects. This was never really a conscious decision so much as something I learned while apprenticing in a commercial environment: you shoot what people hire to you shoot.
Fortunately, a male client wanted some portfolio images taken – and I was only too happy to oblige! We shot a variety of images, including some straightforward commercial-friendly headshots, but I was also keen to shoot some much harsher concepts with hard dramatic lighting.
With a pair of studio strobes creating this stark and contrasty look, the subject's silhouette evoked real Blade Runner vibes. I shot using the Tri-X-like monochrome setting on the Olympus PEN-F at 90mm (using the Olympus 45mm f/1.8).
5. 'Wall of Death' (Mapusa, 2017)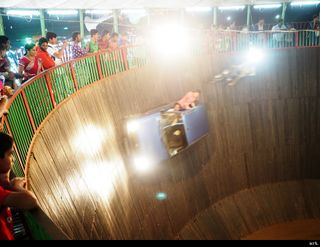 This is one of the damndest things I've ever seen. I was visiting India with some friends, and we heard that there was an old school funfair in a Goan town near where we were staying. (Well, "near" is a relative term, when you have to take a truly hair-raising Indian bus ride to get there!)
It was filled with all kinds of wonders. A traditional Indian magician, who sawed a woman in half and made her levitate. A night bazaar filled with food and fabrics and other wonders. And a wall of death, where daredevils rode motorcycles around a vertical velodrome. Except, they didn't just ride motorcycles – these madman DROVE A CAR around the wall of death as well (and they asked for volunteers, too)!
It's far from a perfect picture – I spent the first few laps taking selfies and a video (below), so after changing lenses I only had two chances to take my shot. As a reportage image, though, I still think it captures a magic moment. Shot on the Olympus PEN E-PL7 at 35mm (on the Olympus 17mm f/1.8).
6. 'La fille' (Montmartre, 2016)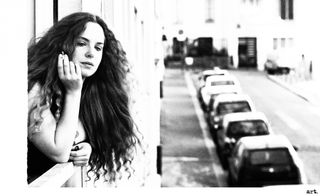 Some of my favorite portraits are taken in a studio setting, often with gels and lights and ornate makeup. This one, though, is one that I'm most proud of – and it's the simplest portrait imaginable. No supplemental lighting, no styling, no carefully dressed set or backdrop; just an honest, human moment.
It was while I was touring Paris with a model. I got some nice images of her inside our apartment in Montmartre, but one afternoon I leaned out of the window while she was having a cigarette – and right there I saw a perfect, picture-postcard shot of Parisian life.
I'd learned photography almost exclusively using a 90mm lens, and I could envision exactly what I wanted; I grabbed my PEN E-PL7 and Olympus 45mm lens and shot in grainy black and white (in-camera, using Olympus' Art Filters) to get the vintage film look I was after. It was the first time I had ever pictured an image in my mind, and captured exactly that image with my camera. It was a wonderful moment.
7. 'This is the girl' (Holt, 2019)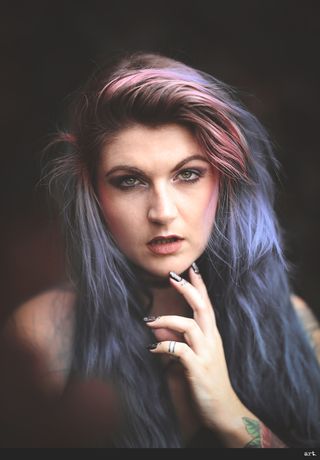 Fine art portraiture is something that has always eluded me. I admire these images immensely, but I've never been inclined to shoot the the traditional setups and old master's canvas backdrops. As my images thus far will attest, my brain seems to prefer harsh contrasty mono portraits.
Still, I was itching to shoot some painterly portraiture with something of that fine art feel to it – but in my own quirky way. My muse is a candyfloss-haired subject covered in tattoos, so I wanted to attempt such an image tailored to her edgy looks and distinct color palette.
Rather than faff about with giant modifiers at home, I actually shot this outdoors using the gorgeous soft wrap of natural light. I ensconced the subject in some foliage, which provided texture to the background while the canopy flagging the harsh illumination. It's one of my favorite images I've taken on my Canon EOS R, using my favorite portrait lens – the Canon RF 85mm f/1.2.
8. 'Geometry' (Albufeira, 2017)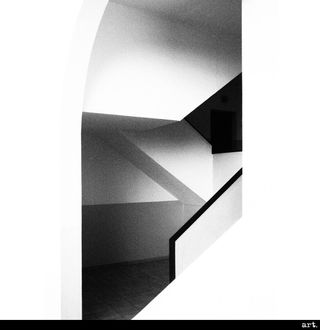 I have a genuine fascination-come-fetish for geometric lines and shapes. I didn't enjoy trigonometry at school, but I loved technical drawing and CAD – I even dropped my art course in favor of design communication because I enjoyed technical illustration so much.
So when I pass an interesting bit of geometry, I get disproportionately excited! I spotted this archway leading into some stairs at an apartment complex in Portugal, while on my way to the shops one afternoon. I don't often shoot architecture, but I couldn't resist stopping and grabbing my camera when I caught this in the corner of my eye.
I grabbed this on one of my favorite combos, the Olympus PEN E-PL7 and the brilliant Olympus 14-42mm EZ Pancake lens (at 30mm) – one of the best pancake lenses and best travel lenses around.
9. 'Maleficence' (Saunderton, 2014)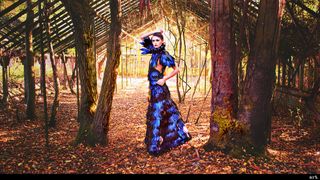 I have a love-hate relationship with this image, which I think is among my best work but I would do so many things differently if I shot it today! Still, I'm overall quite proud of it – and I can forgive its shortcomings since I'd only been using a camera for two months.
I'd been given this incredible bespoke garment to play with, and the first thing I thought of when I saw the model wearing it was Disney's Maleficent. She looked like a fantastical fairytale villain, and we were in a very fairytale setting! The decrepit overgrown greenhouse radiated with greens, yellows and autumnal reds – the perfect contrast to the black and blue hues of the feather-like dress.
The structure formed an ideal proscenium, with the backlighting further helping to isolate and naturally vignette the subject. Taken on the original Olympus OM-D E-M5 at 35mm (using the Oly 17mm f/1.8).
10. 'Prey' (Newent, 2018)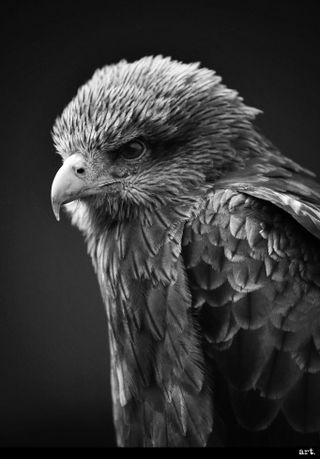 Perhaps it's no surprise that on my first ever outing to photograph birds in flight, I came home with my best images being portraits! I couldn't help myself – birding was fun, but a bit too haphazard for me. So when this beautiful kite sat perched, poised and ready to explode into flight, my portraiture instincts kicked in and I got the shots I was good at.
I shot a couple of color images, but much like with portraits I so often see subjects in black and white, so I clicked over to monochrome shooting – and the contrasty tones don't just capture the mood I was feeling, but also bring out the textures and fine details of the feathers.
Maybe one day I'll try again to capture birds actually flying around… but I'm pretty sure the result will be the same! This is the only shot on the list taken on a DSLR, my trusty old Canon EOS 6D Mark II, at 300mm (with the Tamron SP 70-300mm f/4-5.6).
Read more:
The best camera for portraits in 2020: cameras and lenses perfect for portraits
The best lens for portraits in 2020: our pick of the best 85mm lenses right now
The best travel camera in 2020: see the world and capture amazing images