While the rest of Nikon's mirrorless line is quite distinct, the Nikon Z5 vs Z6 question is one that many photographers are asking. Both are full-frame 24MP cameras, with a number of similarities – but just as many differences.
Ultimately, Nikon is positioning them as cameras for two very separate audiences – the Nikon Z5 being its entry level full-frame mirrorless option, sitting above the Nikon Z50 and aimed at smartphone graduates and DSLR holdouts, with the Nikon Z6 as the intermediate model for more experienced users.
• Read more: Best mirrorless cameras
As we'll see, though, it's not quite that straightforward, as there is a fair bit of overlap between the two bodies. So newcomers may want to dive a little deeper into the pool and seasoned shooters would do well to look over both options and see which is the best Nikon camera for their purposes.
From the sensor to the in-body image stabilization to the memory card format, here are the all-important points to consider between the Nikon Z5 and Z6…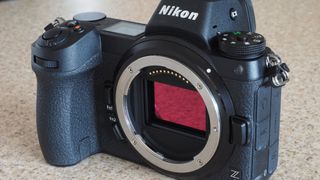 Nikon Z5 vs Z6: sensor resolution
Both cameras feature a 24MP sensor, which gives you a very similar amount of resolving power on the Z5 and Z6.
While there are certainly cameras with higher pixel counts – such as the 45.7MP Nikon Z7 – most people simply don't need that much resolution. It can cause plenty of headaches when it comes to filling up memory cards and hard drives alike, so 24MP is more than enough for most non-professional uses.
The Z5 sensor features 24.3MP, while the Z6 has 24.5. The difference isn't really in the resolution, though, it's in the construction; the Z6 sensor is backside illuminated (BSI), a manufacturing process that should produce superior image quality, especially in low light situations. So even though both cameras have similar ISO performance on paper, the Z6 is set to give slightly superior results.
Nikon Z5 vs Z6: autofocus
Both cameras share an identical autofocus setup, built around Nikon's sturdy phase-detection / contrast-detection hybrid AF system. This is capable of autofocusing down to -3.5EV as standard, and with low-light AF enabled it can go all the way down to -6EV (the equivalent of a blacked-out room lit only by candlelight).
The hybrid AF system boasts 273 focus points on both cameras, and benefits from clever technology such as subject tracking, eye-detection and even animal-detection autofocus. So you should have no problem shooting most subjects, in most lighting conditions, with either camera.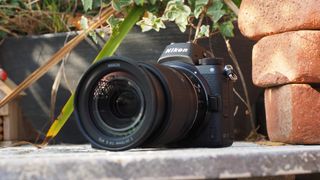 Nikon Z5 vs Z6: ISO sensitivity
The cameras share the same native sensitivity range of ISO100-51200, which is impressive by any measure. The Z5 can be extended to ISO50-102,400, though the Z6 can be pushed up to ISO50-204,800.
Even without extending the sensitivity, the Nikon Z6's back-illuminated sensor gives it the technological edge when shooting in low light situations. BSI sensors have the photodiodes facing the light, enabling them to capture almost 100% of the illumination (compared to between 30-80% on non-BSI sensors, where the diodes are placed below electronics and wiring, making them less effective).
In theory, then, the Z6 will produce the cleaner images throughout the ISO range, but especially at higher sensitivities. Our lab tests will prove just how big the difference is, but it's sure to be there.
When it comes to video, the Z6 is capable of using its entire ISO100-51200 native sensitivity, while the Z5 is limited to ISO100-25,600. So if you're planning on shooting video in challenging light, the Nikon Z6 is the way to go.
Nikon Z5 vs Z6: burst shooting
The Nikon Z6 takes the edge in the continuous shooting stakes, capable of capturing bursts at 12 frames per second (which, unsurprisingly, outclips the 9fps of the Nikon Z7 due to the higher resolution of the flagship mirrorless model).
By contrast, the Nikon Z5 is capable of continuous bursts at 4.5 frames per second – which is still a respectable number for many applications, though clearly if you intend to shoot a lot of sports, wildlife or other fast action, the significant speed of the Z6 is the obvious option.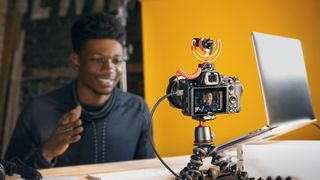 Nikon Z5 vs Z6: video
Both cameras can record 4K UHD video up to 30fps, with a connection for an external microphone, so you can capture crisp footage with great sound on the Z5 and Z6 alike. However, for serious video shooting, the Nikon Z6 definitely has a lot more tricks up its sleeve.
The biggest consideration for videographers is that 4K recording is cropped on the Z5, whereas it is full-width on the Z6. The Nikon Z5 imposes a 1.7x crop on 4K footage, resulting in lower resolution than that of the Z6 – which captures oversampled 6K, producing much more detailed results.
Furthermore, that 1.7x crop affects both the effective depth of field and field of view of your lenses. So the Nikon Z 20mm f/1.8 S, for example, would actually perform like a 34mm f/3 – in short, your lenses will produce much greater depth of field (so backgrounds will be less blurry) and they won't be quite as wide-angle.
In 1080p / FullHD mode, however, there is no such crop factor at play, so your lenses will behave normally. Here the Z5 can shoot up to 60fps, while the Z6 can be overcranked to 120fps – which enables you to capture true, 4x slow-motion.
Each camera offers focus peaking (a visual overlay to assist with manual focus), zebras (a visual aids that helps prevent overexposure) and timecode for advanced videographers. Both can also function as webcams and have a time-lapse movie mode, but only the Z6 offers N-Log recording.
For advanced video use the Nikon Z6 is the clear favorite, though for casual and everyday shooting the Z5 still delivers plenty of options.
Nikon Z5 vs Z6: memory format
So far the Nikon Z6 has had the upper hand in a number of categories, but it's here that the tables are turned – the Nikon Z5 actually has the advantage, as it features dual UHS-II SD memory card slots, compared to the single XQD / CFexpress card setup of the Z6.
While XQD is already becoming a redundant medium, the CFexpress cards are widely seen as the memory format of the future (evidenced by their placement in significant cameras such as the Canon EOS R5, and the best professional cameras like the Canon EOS-1D X Mark III and Nikon D6).
However, the tech comes at a price and you will be spending a lot of extra cash to kit yourself out with CFexpress cards – and even then, the Z6 only has a single slot. While CFexpress is an incredibly robust format, failures do happen and you would lose all your images if the card were to fail.
This is where the Z5 comes into its own. Not only does it use the affordable SD cards that everyone already has dozens of, it takes two at a time – meaning that you can record to both slots at once, ensuring that your images are safe even if a card does happen to fail.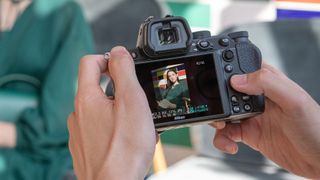 Nikon Z5 vs Z6: viewfinder and LCD
Both cameras feature the same 0.5-inch, 3.69 million-dot OLED electronic viewfinder, with 100% horizontal and vertical coverage and 0.8x magnification (and the same 21mm eyepoint).
However, while they both possess a 3.2-inch touchscreen that tilts to about 45 degrees, the LCD on the Z5 is 1.04 million dots while the Z6 has a higher resolution 2.1 million-dot display. This is obviously very helpful for examining fine detail, both when reviewing your shots on the rear screen and also while composing in live view. If you ever shoot macro, trust us – you appreciate the the extra pixels!
Nikon Z5 vs Z6: body and battery life
While they look superficially similar, and feature the same minimalist controls, the Nikon Z6 is a more traditional body that features a DSLR-style top OLED display (for exposure feedback and settings). The Z5 eschews this top screen, with the exposure mode dial sitting in its place.
Ergonomically the two bodies are very similar, though the Z6 is surprisingly the more svelte camera at 134 x 100.5 x 67.5mm and 585g (body only) compared to the 134 x 100.5 x 69.5mm and 590g of the Z5.
Both possess the same degree of weather sealing, which is on par with the top-tier Nikon Z7 (though bear in mind that you also need to mount a similarly weather-sealed lens, otherwise your system isn't protected), and both have the same 5-axis in-body image stabilization system to reduce shake while handholding and shooting longer exposures.
In terms of battery life, the Nikon Z5 boasts the latest EN-EL15c battery (though it is backwards-compatible with older batteries) and can take 390 shots or 115 mins of video EVF-only, or 470-shots or 120 mins of video LCD-only. Using the older EN-EL15b battery, the Nikon Z6 can take 310 shots or 85 mins of video (though Nikon does not specify which monitor).
The Nikon Z5, then, can capture far more stills or video before the battery gives out. And, once your battery is dead, you can use the USB connection to power the camera – the first Nikon camera to offer this option.
Nikon Z5 vs Z6: verdict
In many ways, the Nikon Z5 is a dialed-down version of the Nikon Z6, with cut features for a cut price. Certainly the Z6 offers a more comprehensive shooting experience, but it may be overkill for enthusiast photographers who are looking to take their first steps into full-frame imaging – especially if they've come from smartphones or entry level DSLRs.
The Nikon Z5 has plenty in its favor. The 24.3MP sensor offers enough resolution for rich and detailed photographs, as well as the resolution for 4K video (albeit with a 1.7x crop). Its dual memory card slots are a plus for any photographer and a definite advantage over the solo-slot Z6 – as is the superior battery life for stills and video.
That said, the Nikon Z6 has the edge in every other category. It has burst shooting almost worthy of the best sports cameras, superior low light performance thanks to higher ISO sensitivity and its backside illuminated sensor, full-readout 4K video and 1080p up to 120fps, and a higher resolution LCD screen.
If you don't shoot low light photography or serious video, the Z5 offers everything you need from a camera. If you want a camera that's quite a bit more capable – and, at current prices, isn't actually much more expensive – the Z6 is the way to go. It's just a shame that it lacks the second card slot!
Pre-order the Nikon Z5 at B&H (US)
Pre-order the Nikon Z5 at Adorama (US)
Pre-order the Nikon Z5 at Wex (UK)
Pre-order the Nikon Z5 at Park (UK)
Pre-order the Nikon Z5 at Ted's Camera (Australia)
Read more:
Nikon Z6 review
Nikon Z7 review
Nikon Z50 review
Best Nikon Z lenses: the best lenses for the Nikon Z5, Z6, Z7 and Z50