Working on a photography magazine really showcases the incredible variety that photography has to offer. One moment I'll be in a studio environment on portrait shoot, the next I'll be halfway up a mountain out in the wilds of nature.
I've worked with children and animals, shot top-flight sports matches, captured the Big Five on safari, photographed ladies wearing nothing but deep shadow to preserve their modesty (and my blushes), and, to really set the pulses racing, steam trains thundering down the track.
I've used a wide range of kit to suit the diverse subjects I find myself shooting, and as I'm often working with professional photographers who are experts in their own field, I've picked up invaluable kit advice from those that really know.
So here's my hand-picked list of kit that I simply can't do without – along with the stuff that I really can.
Cameras

I'd always been a DSLR devotee through and through. My early experiences with those newfangled mirrorless machines were that they were slow, the viewfinders were horrible, and they were no substitute for a 'proper' camera – until Nikon introduced the Z 7, that is.
The game-changer is the incredibly crisp, virtually lag-free electronic viewfinder – it's so good you almost forget that you're looking at a screen, rather than through an optical viewfinder. Yet the ability for the display to reflect your exposure settings before you take your image make it possible to shoot easily in situations that a DSLR would find tricky, such as in near darkness.
Add to this the redesigned-from-the-ground-up Z mount that rewrote the rules in what was possible with optical quality, and that it matched my Nikon D850 pixel for pixel, enabling incredible high-resolution billboard-sized images, and I was an instant convert.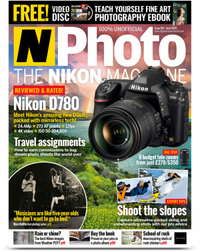 N-Photo is 100% Nikon-devoted, and 100% editorially independent. If you're a Nikon owner and want to improve your images, get the best buying advice and reviews, see some of the world's best Nikon photography, N-Photo is the title for you.
Lenses
I'm big fan of shooting wide – and the wider your ultra-wide zoom goes the better, as far as I'm concerned. However, earlier super-duper-wide lenses like the Nikon 14-24mm f/2.8 have one drawback – the bulbous front element makes using filters impossible without clunky adapter kits. And shooting wide is exactly when you're likely to want to slap an ND filter or polarizer on the front.
That this Z lens manages to pack that ultra-wide 14mm viewing angle into a lens with a completely flat front element is remarkable enough, but combined with the utterly fantastic image quality that has become the hallmark of the Z system makes this an essential purchase for those that like to shoot in cramped interiors or cram the most into their landscapes.
3. Nikon 24-70mm standard zoom
While I love shooting anything and everything, much of my own day-to-day photography is shooting the 'behind the scenes' shots that appear in the magazine's pages, showing professional photographers teaching our readers the tricks of their trade in our 'Apprentice' features being a prime example.
And for editorial shoots, a 24-70mm is the lens that's welded to the front of whatever camera I happen to be using; I can pull out wide to show a pair of people shooting surrounded by their environment, zoom in close to candidly capture their interactions, and as well as recording the story of the shoot, sneak in my own shots of whatever subject they're photographing for my own portfolio.
On the Z 7 I'll use the Z 24-70mm f/4 S, while on my D850 it's the Nikon 24-70mm f/2.8E ED VR, but other camera systems makers – as well as third-party brands such as Sigma and Tamron – offer equivalents with equally brilliant sharpness for images that can comfortably stretch over a double-page spread.
Accessories
4. Hoodman HoodLoupe
Reviewing shots on your rear LCD outdoors is near impossible when the light is bright, and trying to find some shade to squint at your screen in the vain hope of minimizing reflections really was a fool's errand that made checking shots for sharpness a non-starter.
The HoodLoupe fits snuggly over the rear display of DSLRs up to 3.2 inches, shielding out ambient light and giving a crystal-clear view of the display. Its rubberized pop-out design saves space in your kit bag, and the built in focusing diopter enables those of us with less than 20:20 vision to see clearly.
5. Lowepro Powder BP500
There's no such thing as the perfect camera bag – it's essentially the one that most precisely fits the kit you're taking with you for the particular shoot you're about to embark on. For days out and about on the city streets, a messenger bag is my preferred choice, but when hiking through the countryside for miles to reach your destination, only a backpack will do.
The Powder is designed for winter sports shooters – with straps for carrying skis and snowboards – and as well as the generously accommodating and well-padded camera compartment, its expandable upper section swallows everything from extra layers of clothing to your packed lunch.
But as well keeping my gear safe and secure while shooting snow sports, it's been with me on safari in Africa and overnight hiking trips in Brecon Beacons – complete with lightweight tent strapped to the outside.
• The best camera backpack in 2020
6. Handwarmers
Dawn shoots and the inclement weather that we photographers often find ourselves really aren't good for my fingers – which turn an alarming shade of white as the temperature dips. I refuse to embark on an outdoor shoot without a supply of handwarmers these days – at the first sign of things getting a bit nippy I'll rip them open and stuff them in my gloves to keep my digits toasty warm throughout the shoot.
Plus, if it gets really parky, you can tuck them in your hat to keep your ears nice and snug, pop them into your boots so you can still feel your toes, and even wrap them around your lens barrel to ward off condensation on all-night astro shoots.
7. L-bracket
Before I used an L-bracket I really didn't see the point. It only takes a moment to change the orientation of the tripod head from horizontal to vertical orientation, doesn't it? And besides, it's surely up to the photographer to decide on whether a portrait or landscape image is best in the first place?
But working in print magazines, I've learnt that sometimes you want the image to fill a single page – a portrait image – and other times stretch across a spread in landscape format, so if you're in the business of selling your images via stock libraries, you double your chances of a sale if you shoot both.
Flipping your tripod head actually completely repositions your camera, placing it lower down and putting it to one side, so your carefully crafted composition will be ruined, whereas an L-bracket enables you to flip the camera by 90 degrees while remaining in precisely the same position on top of you camera, meaning you can shoot both orientations in an instant – important when the fleeting light only illuminates your scene for a few seconds.
I use the custom-fit 3 Legged Thing Zelda for the Z 7, but there great generic brackets that will solidly hold the majority of DSLRs, too.
The worst...
8. XQD cards
Let's get this straight from the outset, it's not the XQD format that I have a problem with – they are supremely reliable, blazing fast and, at the time of their release, blew every other memory card format out of the water – it's the cost of the things that gets my goat.
A proprietary format developed by Sony, you could buy a Windows laptop with the same amount of storage space for less than the cost of an XQD card alone. Prohibitive licensing costs mean the limited number of cards made by rival manufacturers were almost as costly as Sony's own, but as the 'future-proof' format adopted by Nikon, Z camera users had little choice but to buy them.
Thankfully, recent firmware updates to make the Z (and other cameras) compatible with the identical-form-factor CFexpress open standard will see XQD consigned to the dustbin of history, a victim of its maker's own greed.
• The best memory cards in 2020
9. Cheap tripods
When I first started out my photography journey, with barely a penny to my name, I bought cheapo generic unbranded tripod – 20 quid suited my pocket much more than blowing a couple of hundred on something that apparently did the same job. What a false economy that turned out to be!
I wondered why my long-exposure shots were never as sharp as they should have been (of course, it was all due to the slightest breeze shaking the support). But the biggest – and most expensive – lesson I learnt was when I watched it slowly teeter over from afar, bringing my SLR crashing to the ground…
• The best tripod for photography
10. ND grads
These filters are designed to balance the brighter light of the sky with that of the darker ground below – and pro landscape photographers have sworn by them for years. But no matter how good the quality of your filter, any unnecessary piece of glass between your lens and your subject is going to have an adverse effect on your image.
To me it makes so much more sense to take one exposure for the sky, a second for the land, and blend them with a soft-edged brush in your photo editing software of choice.
Others in this series
• Rod Lawton's best and worst camera gear ever
• Peter Fenech's best and worth camera gear ever
• Dan Mold's best and worst camera gear ever
• Lauren Scott's best and worst camera kit ever
• Alistair Campbell's best and worst camera kit ever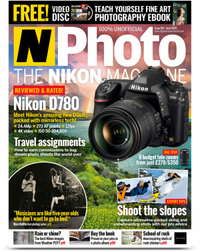 N-Photo is 100% Nikon-devoted, and 100% editorially independent. If you're a Nikon owner and want to improve your images, get the best buying advice and reviews, see some of the world's best Nikon photography, N-Photo is the title for you.