The new Phase One XT is a portable medium format camera that combines Phase One's ultra-high resolution IQ4 digital back system with a trio of lenses from renowned optics maker Rodenstock via a super slimline XT camera body.
Make no mistake, the Phase One is expensive, hugely expensive, even compared to the best medium format cameras you can buy right now. But it's not designed for the mass market, or even most professionals (and even if you are one of the pros this is aimed at, you may simply just end up hiring it by the day).
The Phase One XT Camera System is available right now from Phase One professional dealers worldwide and sells for a hefty $56,990. This price, mind you, does include an IQ4 150MP back, the camera unit and a lens of your choice – plus a 5-year warranty. We tested this 150 megapixel back as part of the chunkier and more traditionally designed Phase One XF IQ4 150MP earlier this year.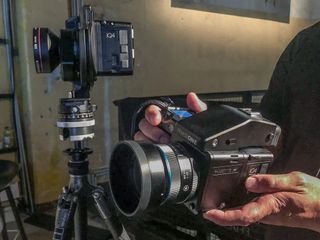 The key attraction of this outfit is its portability. This is a lens to be carried around the streets and up mountains - and not optimized for use in the studio. It is a traditional field camera, in fact, reinvented for the digital age.
The Phase One XT Camera System is aimed at high end landscape and architectural photographers who need the maximum possible image quality but in a more portable camera than those available to date.
We had a chance to look at and gets hands-on with the XT at Berlin Photo Week, and although we did not have a chance to take images, we have updated our earlier news-focused piece on this camera with some remarks on the handling of the camera - as well as its capabilities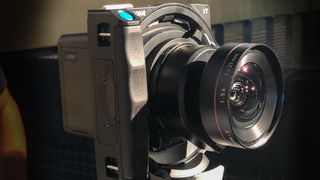 Phase One XT: handling
There are three main parts to the XT System – the IQ4 capture modules, the Rodenstock lenses and the camera itself which acts as a kind of physical interface between them. It's a completely different, modular, design philosophy compared to regular cameras,
The new camera will be able to use all three of Phase One's IQ4 Infinity Platform digital back modules, including the IQ4 150MP, IQ4 150MP Achromatic or the 100MP IQ4 Trichromatic. All three have 'full frame' medium format sensors equivalent to the the size of the old 645 format and larger than those in cameras like the Fujifilm GFX 100 and Hasselblad X1D II 50C). However, it is the IQ 150MP that is the one being offered in the XT Camera Sytem kit.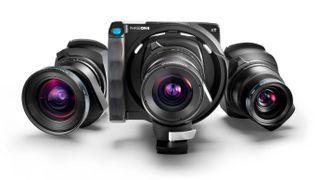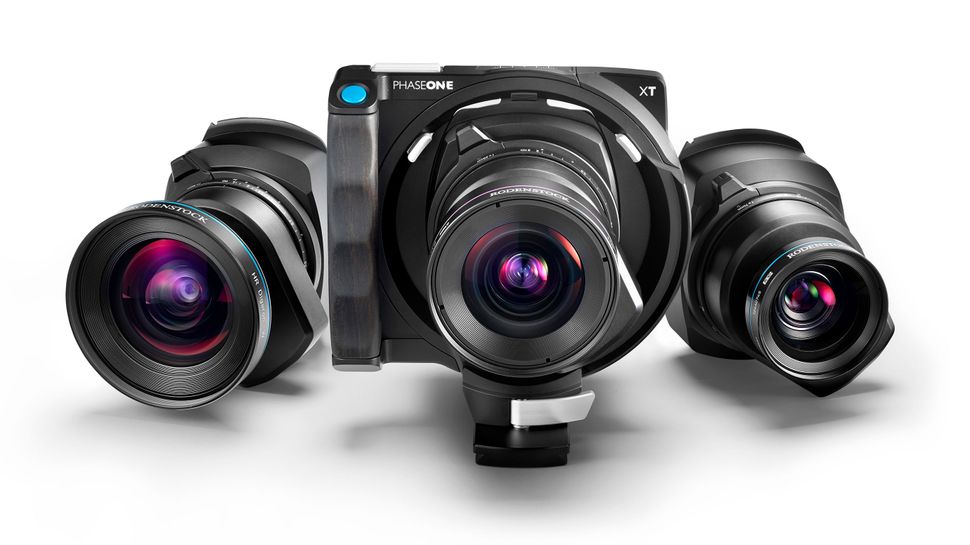 The camera body has less to do here than in other cameras as much of the work is done by the IQ4 modules and the lenses themselves (which have integrated leaf shutters). It's been designed exclusively for the XT system with 'intuitive' ergonomics and a dual-action shutter button to support future expansion and customisation.
The three lenses available initially are a Rodenstock HR Digaron-S 23mm f/5.6, Rodenstock HR Digaron-W 32mm f/4 wide-angle and a Rodenstock HR Digaron-W 70mm f/5.6 is a normal focal length lens. These focal lengths sound long by full frame camera standards, but on the larger XT format they correspond to an ultra-wide prime, wide prime and standard prime lens.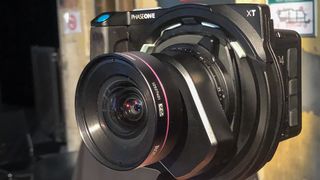 The XT system carries through another key field camera feature – a built-in lens shift mechanism. This can be used to correct converging vertical and horizontal perspective distortion with a shift adjustment of up to 24mm in both axes.
The Rodenstock lenses have large image circles to allow for this shift movement. On regular cameras this can only be achieved using dedicated perspective control lenses, but here it's a standard feature built into the system.
The amount of shift is automatically recorded in the metadata of the shot (as well as being displayed on top-plate display) - ensuring that in post production any darkening at the edges can be compensated for. One architectural photographer we spoke to who has been using the XT, says that the system means his time editing his images has been cut by more than half.
There is no tilt movement available, however... so despite superficial similarities with more technical cameras... this only give you a certain amount of manipulation over the geometry of your images (and zero extra control over depth of field).
• This is what photos on the $57,000 Phase One XT look like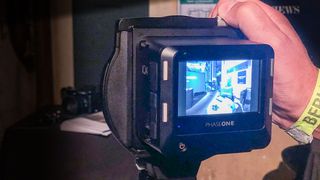 The camera comes with an Arca Swiss mount, which allows simple and fast connection to the tripod, and has a collar that allows you to switch from landscape to portrait format by simply rotating the set-up without having to take it off the support.
But the camera is just at home in the hand - surprisingly so - whether to take images, or to hunt out a better camera angle. The tripod foot can even be removed if you want to go tripod free. Handheld shooting is not quite as absurd as it might sound, as the leaf shutters in the lenses do mean that you don't get the vibration you get with some other medium format cameras.
This is, however, a camera that demands you take your time, if you are going to get the most out if it. With the investment you make in buying (or renting) this camera you do need to take your time to get the image. Perhaps Phase One are reminding of this when you turn the back on... it takes rather longer to fire up ready to take a shot than you will find on almost any other camera.
Conversely, the camera has been designed to write the 150 megapixels of data at a decent speed - with the option of an XQD memory card, in addition to a secondary SD slot.
Phase One XT: verdict
This is a unique camera in the digital era, that offers a field camera that can offer 150 megapixels of resolution in a kit that you can use for landscape photography missions, or for single-handed architectural assignments. The modular design mean you can opt for less luxurious backs, but the system is limited by only having three lenses at launch - albeit that all of these have shift movements for adjusting converging verticals, and the additional benefit of integral leaf shutters. But despite the huge price, and the limitations, there are enough people who want and need this camera, that it is almost inevitably going to remain on back order for a long time.
Read more:
• These are the best medium format cameras available today
• We pick the best cameras for professionals
• The best cinema cameras in 2019
• The ten cheapest full frame cameras you can buy