When you think of the best action cameras, you think of GoPro, right? Well, it's true that GoPro leads the way for conventional action camera design, but while the best GoPro cameras (opens in new tab) are pretty amazing, there are alternatives that are equally compelling in their own way. DJI, Insta360 and Akaso cameras offer features GoPro cameras don't, or at prices, GoPros can't match.
DJI is perhaps GoPro's best-known rival, but certainly not the only one. There's a lot of crossover in this market with other areas like the best 360º cameras, and the newly updated modular Insta360 One RS Twin Edition includes both an action camera module and a 360 module – it's two cameras in one!
And while the GoPro Hero 11 Black takes the top spot in our list, don't forget that GoPro keeps older Hero9 and Hero8 models on sale at reduced prices. Or, for a completely different take on the idea of 'action' cameras, check out the amazing Insta360 Go 2, also on our list. We thought we'd also throw you a curve ball with the DJI Pocket 2. It's not a rugged go-anywhere camera like a GoPro, but it's a pocket-sized gimbal camera with stabilization, 'follow' modes, and image quality way beyond what its size suggests.
These action cameras aren't the only way to record your adventures. For a step up in quality, check out our guide to the best cameras for vlogging (opens in new tab). Alternatively, for a whole new perspective, we have a guide to the best camera drones, which are like having an action camera in the sky.
But for now, let's get started with our top picks of the best action cams right now…
The best action cameras in 2023
Why you can trust Digital Camera World Our expert reviewers spend hours testing and comparing products and services so you can choose the best for you. Find out more about how we test.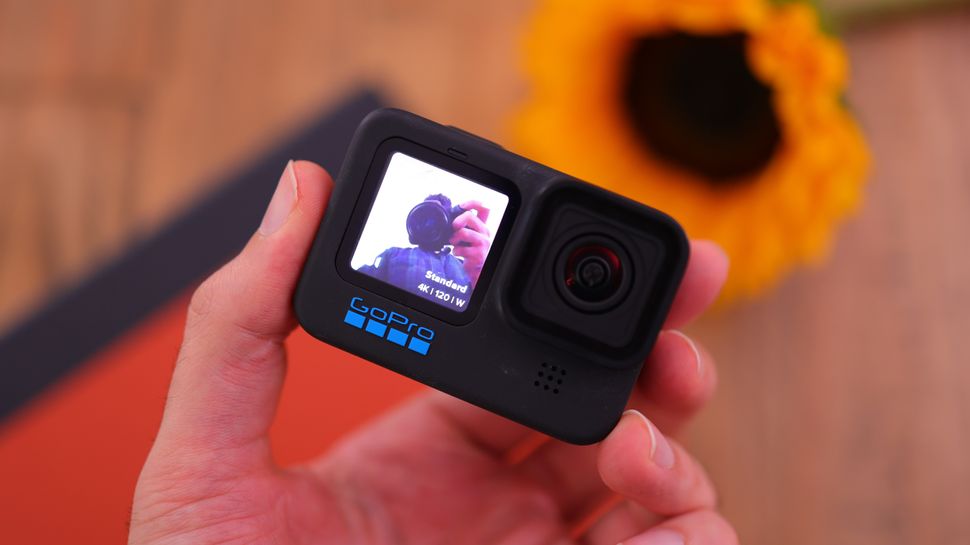 (opens in new tab)
Despite the Hero 11 Black looking like every other GoPro this side of 2019, with upgraded hardware and software, it's a triumph on all fronts. The new, almost square sensor is supremely versatile, the camera's software has been simplified successfully, and GoPro's companion app, Quik has also been improved. With best-in-class stabilization, great-looking video in all but dimly-lit and dark scenes, and some fun new modes like light painting, the Hero 11 Black is an excellent addition to the line.
The Hero 11 Black's 8:7 aspect ratio is also a standout highlight for content creators. Able to shoot in 5.3K resolution, 8:7 video at up to 30fps, its footage can be losslessly cropped to create new 4K portrait, landscape, and square clips from a single video.
On top of 8:7 video, the Hero 11 Black captures 5.3K resolution video at 60 fps, 4K resolution video at 120 fps, or 2.7K resolution at 240 fps. You can also grab 27MP stills from 5.3K video.
The Hero 11 Black might not have wildly improved the line's lowlight performance. Still, with its new 8:7 sensor, a simplified interface, and enhanced horizon leveling, it's upgraded GoPro's offering in a meaningful way. Particularly appealing to folks who use multiple social platforms, nothing else can do quite what the 11 Black can.
Read our full GoPro Hero 11 Black review for more details
GoPro Subscription explained: what you get, and is it worth it
(opens in new tab)
Welcome to the newest and best GoPro around. Though launched without much fanfare and looking identical to the Hero9 Black in almost every way, the Hero10 Black is nevertheless a significant upgrade. That's all down to its use of the all-new GP2 processor, which powers a speedy user interface, doubles the frame rates, and fuels the best image stabilization tech yet.
The highlight is 5.3K video with 60 frames per second, but don't underestimate the usefulness of GoPro's new HyperSmooth 4.0 video stabilization – in all modes – alongside 23MP photos and best-ever low-light performance. Add a nifty cable for super-quick camera-to-app content transfer and auto-upload of videos and photos to the cloud while it recharges and the Hero10 Black was worth the wait.
It's definitely not the cheapest action camera you can buy, but GoPro is now an expert at producing tough, reliable, and supremely effective action cameras, and you do get what you're paying for.
Read our full GoPro Hero 10 Black review (opens in new tab) for more details
(opens in new tab)
Is the Insta360 ONE RS a novelty or a serious filmmaking device? Unique in the market, the ONE RS is designed to appeal to anyone who would normally consider a GoPro yet yearns to at least have a go at 360º.
The fact that its 360º lens is unchanged from the first-gen version does indicate that the format has settled in as a nice option for occasional use but one that lacks much more development, which chimes with us.
That lens does allow a lot of creative options and we love how the Insta360 app provides templates to create natty 360º sequences from clips, but most users will rely on its 4K Boost Lens.
The second-generation camera impresses us with its longer battery life, higher resolution stills, and a new widescreen 2.35:1 aspect ratio. Insta360's FlowState stabilization is smooth and now more versatile with lots of AI-powered auto-editing features in an excellent smartphone app.
Read our full Insta360 ONE RS Twin Edition review (opens in new tab) for more details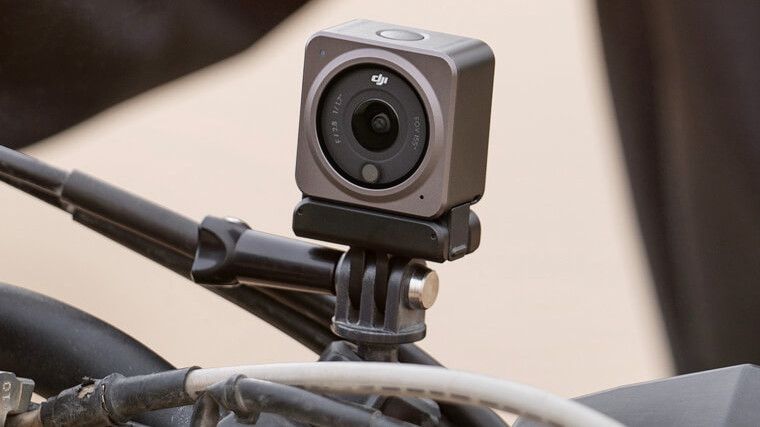 (opens in new tab)
Leading drone maker DJI forced a re-think for GoPro by introducing a front screen to their first action camera; a handy innovation for vloggers. The new Action 2 puts even more choice in the user's hands, coming as a tiny 39x39mm square camera core that can be operated alone or attached (by a magnetic clip) to other units which offer more connectivity, battery life, and a front-facing screen.
The camera has a 1 / 1.7" sensor and RockSteady 2.0 and HorizonSteady image stabilization. Even paired, it is only around the size of a GoPro, though on the downside the rear touchscreen is only the size of the main camera unit. The modular system is strong and has immense gadget value (though can get a bit hot when charging), while DJI's Mimo app makes control via your phone painless.
There is an interesting new world of accessories (as well as adaptors for the traditional 'GoPro' style ones), making this a hard option to overlook.
Read our full DJI Action 2 review (opens in new tab) for more details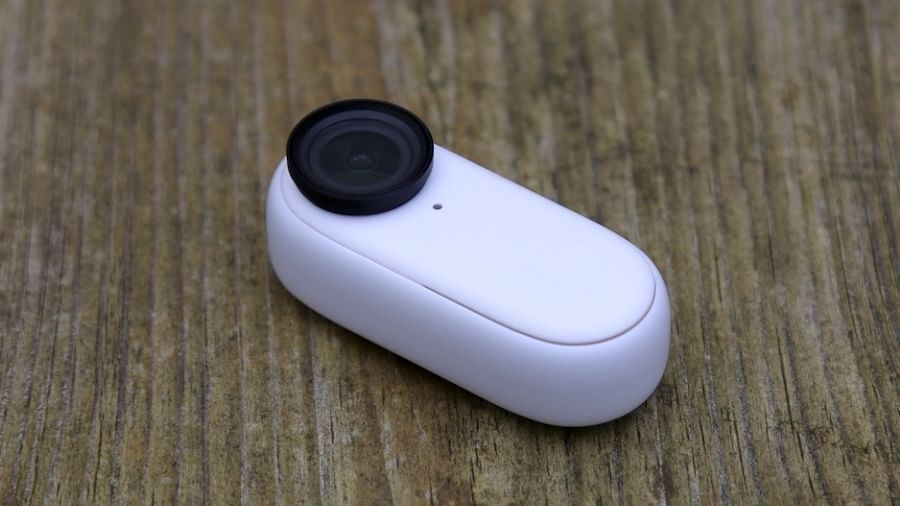 (opens in new tab)
The Insta360 Go 2 is a long way from the rugged adventure cameras in the rest of this guide. It's a cute and tiny wearable camera you can clip to your clothing, snap to a magnetic pendant around your neck, prop up on your own desk in its own holder, stick to a car dash or window... and more.
Capable of unique immersive POV shorts and also worth considering as a minimalist rig for vloggers, the lightweight Insta360 Go 2 has some surprisingly big features for such a small camera. Excellent image stabilization, 'horizon lock', and a multi-functional battery case make this versatile clip-on camera more than just a novelty item.
It's not an action camera in the same sense as the rest, but its tiny size means it can film things you might never have attempted before.
Read our full Insta360 Go 2 review (opens in new tab) for more details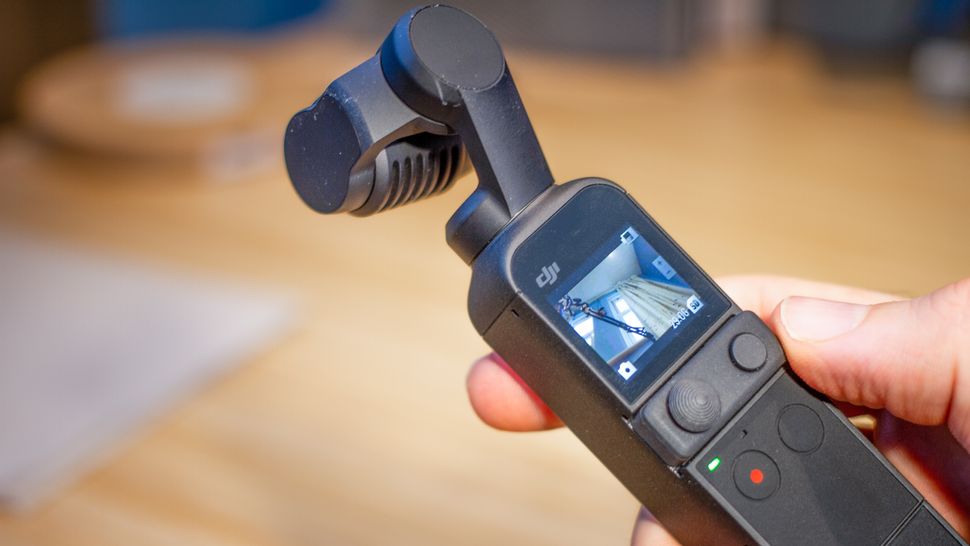 (opens in new tab)
Is the DJI Pocket 2 an action camera? Well, it's not rugged and waterproof, but it's pocket-sized, simple to operate, and does many of the jobs you might have bought an action camera for – and with superb stabilization, smooth 'follow' modes, and flip-around selfie shooting.
There's also a handy ultrawide lens attachment that definitely drops quality, but adds a field of view. Despite some real highlights: shallower depth of field than expected and nippy focusing, not to mention great object tracking and color reproduction, noise handling isn't a highlight on the Pocket 2.
That aside, the convenience, versatility, and stabilization offered by the DJI Pocket 2 can't be overstated. After all, nothing much can do all the things it can and still slip into a jacket pocket. You can even plug it into your smartphone and get big-screen control and playback via the DJI app.
Read our full DJI Pocket 2 review (opens in new tab) for more details
(opens in new tab)
GoPro's first action camera to feature a vlogging-style front-facing screen is now better value than ever. It allows you to frame yourself while vlogging, when used as a webcam, or just for selfies. The resolution got a boost too, with 20 megapixel stills capability and a 5K video shooting. The latter will be overkill for many, but it also allows 14.7 megapixel grabs from video, which could be hard to resist.
It's also got a larger 2.27-inch display than the older GoPro Hero8 Black, super-smooth Hypersmooth 3.0 video stabilization, TimeWarp 3.0 for handheld time-lapses, a travel case. There's also a Max Lens Mod accessory that will bring GoPro Max (opens in new tab)-style features like 360º horizon lock and an ultra-wide 155º Max SuperView mode.
Read our full GoPro Hero9 review (opens in new tab) for more details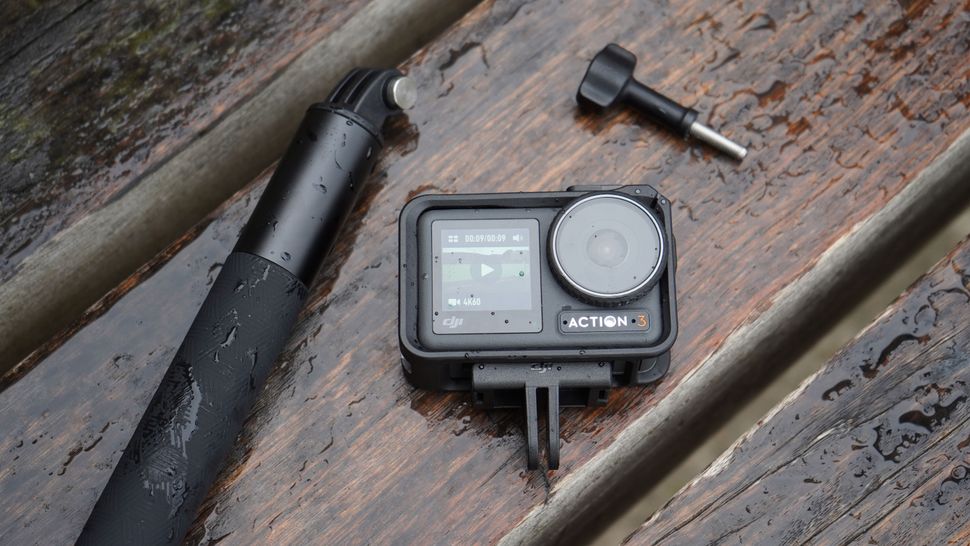 For most adventurers, the Osmo Action 3 is the perfect balance of quality and price. Stabilized 4K video looks great and the camera can take a lot – not just rough and tumble but temperature extremes. It isn't cheap, but the RRP is comfortably less than a similar GoPro and won't push you toward a subscription after 12 months.
while it is a little sad to see the modular design seemingly abandoned, the Action 3 is easier to manage and more capable. The only sacrifice is the larger size and weight, but even then it still has the GoPro beat.
The EIS remains excellent from the previous generation; RockSteady and HorizonBalancing both produce a smooth video from aggressive action. For most 4K is the ideal resolution for action, especially with up to 120fps.
The fact that Action 3's isn't interwoven with subscription software is one we appreciate
Read our full DJI Osmo Action 3 review (opens in new tab) for more details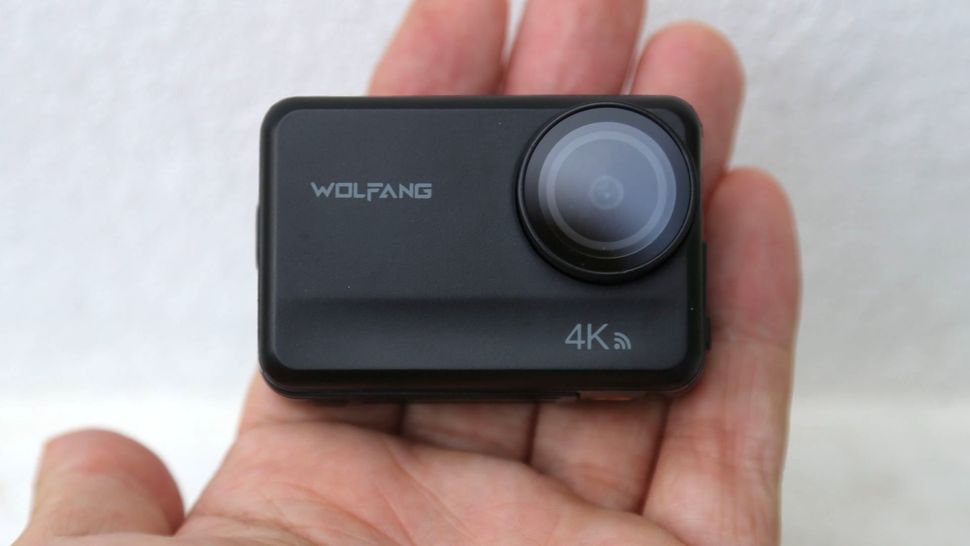 (opens in new tab)
If you're looking for one of the best GoPro alternatives (opens in new tab)(opens in new tab) for all-round basic use then the Wolfgang GA400 action camera (US$119.99 / £119.99) should be on your radar.
Boasting 4K 60fps video and up to 20-megapixel stills, it appears to match its much pricier rivals both on resolution and by having a natively waterproof chassis. It's loaded with accessories and easy to use yet it lacks some crucially important characteristics that flagship action cameras alone offer.
With good quality, if imperfect, 4K video and good 20MP stills, the GA400 makes a great alternative to one of the big brands of action camera if you're after results a level below the cinematic quality offered by the leading action camera brands. At this mid-range level, the build quality is excellent and the touchscreen is responsive while the onscreen menus are intuitive and easy to use.
Read our full Wolfgang GA400 review (opens in new tab) for more details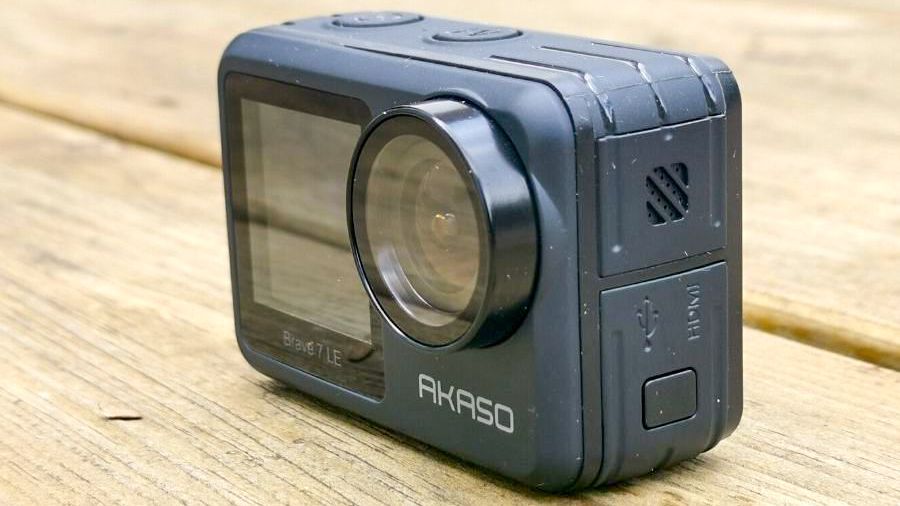 (opens in new tab)
If you need a front screen for vlogging – or to ensure you stay in the shot as you film yourself skiing down a slope with a selfie stick – then this is a bargain buy. It has the same killer feature found on the GoPro Hero 9 and the DJI Osmo Action, but the second screen comes at a fraction of the cost.
You get 4K shooting and 20-megapixel stills - plus a capable 6-axis image stabilization system. There is a good range of accessories in the box too - including a second battery, mounts, and underwater housing. Note, though, that unlike with many rivals you need to use this housing before you take your action cam into the water.
Read our full Akaso Brave 7 LE review (opens in new tab) for more details
How we test cameras
We test cameras both in real-world (opens in new tab) shooting scenarios and, for DSLRs and mirrorless cameras, in carefully controlled lab conditions. Our lab tests measure resolution, dynamic range and signal to noise ratio. Resolution is measured using ISO resolution charts, dynamic range is measured using DxO Analyzer test equipment and DxO Analyzer is also used for noise analysis across the camera's ISO range. We only use real-world testing for our guides to instant and compact cameras - comparing results against similar models that we have tested.
Read more:
The 30 best GoPro accessories (opens in new tab)
The best waterproof cameras (opens in new tab)
The best 360 cameras (opens in new tab)
The best travel cameras (opens in new tab)