Does anyone need the GoPro HERO 11 Black Mini? If you've admired the GoPro HERO 11 Black from afar, but want something smaller and more affordable then the HERO 11 Black Mini is easily among the best GoPro cameras as well as the best action cameras. A miniaturized version of its big sister, it's aimed primarily at cyclists, skateboarders, skiers and surfers after the smallest action camera possible for attaching to a helmet, to equipment (including drones) or wearing as a body cam, the HERO 11 Black Mini costs US$299.99/£299.99/AU$499.95 with a GoPro Subscription. That's about 25% less than the HERO 11 Black.
In some ways, a rehash of both 2015's GoPro Session and 2022's US-only GoPro HERO 10 Black Bones drone cam, the HERO 11 Black Mini has nearly every feature of the HERO 11 Black. Nearly, but not quite. There are no LCD displays, front or back. The battery can't be replaced. If you won't miss any of those features then the HERO 11 Black Mini could be for you.
Specifications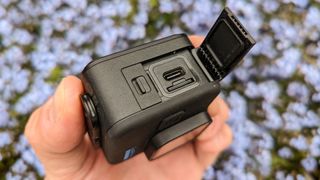 Weight: 4.7 oz / 133 g
Measurements: 52.4 x 38 x 51.2mm
Waterproof: 33.0' / 10.0 m
5.3K video: up to 60fps
4K video: up to 120fps
2.7K video: up to 240fps (8x slo-mo)
Stills resolution: 24.7MP
Battery life: 2-3hrs
Key features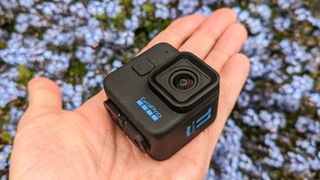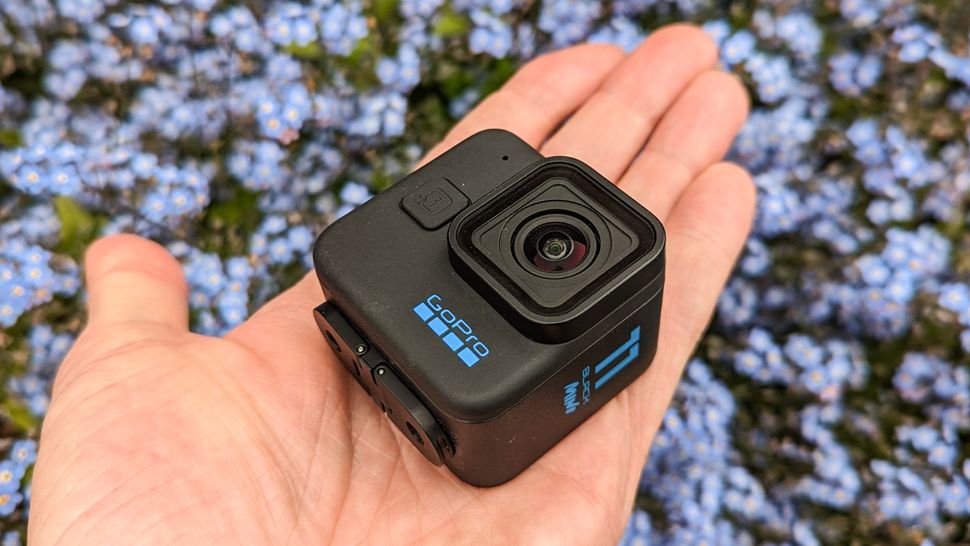 The HERO 11 Black Mini is physically different from the HERO 11 Black. Most important is its significantly reduced footprint. It's 13% smaller than the HERO 11 Black, but it's also narrower and will fit better into tight spaces and anywhere where bulk is going to be an issue.
Its second physical advantage over the HERO 11 Black is that it offers two sets of folding fingers for mounting, which adds extra versatility and allows it to work with most GoPro accessories. There's one set on the bottom of the camera and one on the back.
Another difference is that has neither a rear nor front-facing screen, which makes it harder to compose shots. That will be a deal-breaker for some, but it does make things a lot simpler. Ditto the HERO 11 Black Mini's built-in 1,500mAh Enduro battery is re-charged using a USB-C cable. So the HERO 11 Black Mini is going to be suitable only for relatively short shoots.
Inside the HERO 11 Black Mini you'll find largely the same specs, though it lacks flagship GoPro features HindSight, scheduled capture, and duration capture. It's also got no dedicated photo mode.
Build and handling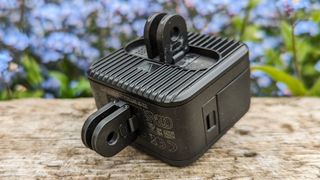 Its 133g weight isn't significantly less than the 153g of the HERO 11 Black, but more important is its smaller footprint. Its square shape is easier to handle. It fits in the palm of a hand and seems far more suited to extreme sports than its bigger sister. The only buttons on the chassis and on/off on the front and start-stop on the top, though they can be used to toggle through menus. However, it's much easier to do all that via GoPro's Quik app, which we managed to get working very quickly, first by connecting a smartphone to the HERO 11 Black Mini via Bluetooth, then via its WiFi network to check out a live preview. The latter is important because there are no displays to check the composition. Sure, it makes shooting longer to initiate, but if you're going to use it for extreme sports then the lack of screens is largely a welcome battery-saving feature.
Performance and battery life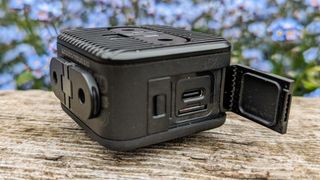 We didn't much miss the front and rear displays. Even if you're not planning to use it attached to a helmet it's easy and quick to connect a smartphone and see a live preview via the Quik app. It's also very simple to view footage you've just shot in a low-res preview. It's also possible to quickly grab 24.7 MP SuperPhoto HDR stills from its 5.3K video files, rendering the lack of dedicated photo mode moot.
Relying on the Quik app to adjust settings proved straightforward, though it's wise to get to know the on-device controls to swap between, say, the micro SD card-filling 5.3K at 60fps and 4K at 120fps. Across the resolutions, the video quality was excellent, with the HyperSmooth 5.0 video stabilization making everything smooth enough without resorting to overprocessed dream-like effects.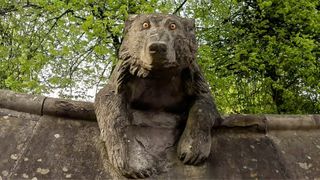 Although the lack of a removable battery is a pain – given it lasts only about three hours – it is possible to power the HERO 11 Black Mini via a USB-C cable hooked up to a portable battery. To make it even easier GoPro also sells a USB Pass-Through Door so the HERO 11 Black Mini can retain its waterproofness while you do so.
Sample videos
Go Pro HERO11 Black Mini sample video: 5.3K 60fps.
Go Pro HERO11 Black Mini sample video: 4K TimeWarp.
Verdict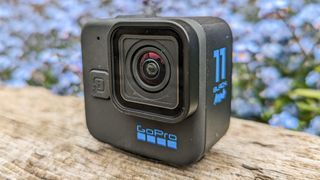 An excellent action camera for extreme sports enthusiasts that want to film for long lengths of time without the weight or battery-draining displays of the HERO 11 Black, the HERO 11 Black Mini is inexorably tied to GoPro's Quik app. That's not a bad thing because during our test we were able to hook it up to a smartphone very easily to fiddle with video settings, compose shots and playback recordings seconds after they'd been shot. Add a slick workaround for its lack of a dedicated photo mode, the ability to add to its built-in battery power it from a USB-C battery, and, most of all, its all-round excellent video quality, and the HERO 11 Black Mini seems a well-aimed product for GoPro users who want less, not more.
Also check out the best GoPro accessories, to pimp your setup.