Perhaps it's in the name, but we tend to think of Insta360 as a producer of 360-degree cameras. In reality the company is more of an innovator and while the Insta360 X3 might be the 360-degree camera of the moment, the company's tiny Go 2 camera which pops into a case might be more relevant here. That and history of making action-camera sized devices in partnership with Leica.
Insta360 Ace Pro Specs
Sensor Size: 1/1.3"
Aperture: f/2.6
EFL: 16mm
Video Resolution: 8K@24fps, 6K@30fps, 4K@120fps
Stills: 48MP
Waterproof: 10m (claimed)
MicroSD: Max 1TB
Run Time: 100mins

Here we're testing the Ace Pro, an action camera which sports a horizontally folding touchscreen. That's interesting because the two key competing cameras, the DJI Osmo Action 4 and GoPro Hero 12 Black both opt for a smaller color display on the front next to the lens. DJI's is a touchscreen too, though so small only limited options are available.
Insta360 have, in the past, experimented with modular cameras (as did DJI with the Osmo Action 2), yet the market – so far – doesn't seem to have rewarded any change from the bland cuboid shape established by the original GoPro. It seems that Insta360 has the guts to try again and perhaps the timing is right this time too.
Vlogging is more important than ever and, by reducing the number of complications to a single hinge, the device isn't actually that different to a traditional action camera. Will this be the best of both worlds, as well as bringing some Leica magic?
The camera is being released in two versions, the Ace and Ace Pro – it is the latter we are testing here, but the Ace still has 6K video and the same body, though a smaller 1/2-inch sensor.
Note – during my quick review I wasn't able to fully test the software, so this review will be updated in a few days.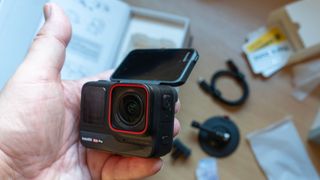 Insta360 Ace Pro: Build and Handling
Lifting the camera out of the elegant, environmentally friendly box and it looks and feels like a tough action camera – only a little heavier and a little fatter. Not a lot, and mostly I found myself feeling the quality of the materials, but it is immediately noticable that there is a little more weight here than with, say, the Action 4.
The front of the camera has a bright red rounded square around the lens, which bears the branding Leica Super Summarit-A 1:2.6 16mm equiv. I'm not used to seeing the EFL written on the front of devices, but I don't mind – it's clearly designed to feel photographic, and it does look the part. The diagonally opposite logo also manages to include a hint of red, in case you'd forgotten about the Leica co-brand.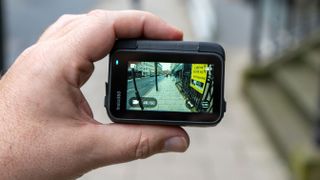 On the back of the camera you find the touchscreen on its hinge. To actually pull the screen away from the back you also need to press two little locks in the lower corners, which means that, kept in place, the body remains simlar to other action cameras with nice rounded corners. The front also has a settings display with an (arguably too big) indicator light at the bottom – it's over a centimetre long and easily reflects in windows if you're shooting through them.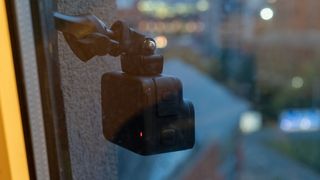 The one worry I found was the hatch for the USB-C and memory card, which is meant to clip under a rod a little like a hinge. The hinge, though, didn't open all the way for me until it eventually came out. After that, it was difficult to get it back and the door remained looking somewhat precarious, tough a hard push did the trick.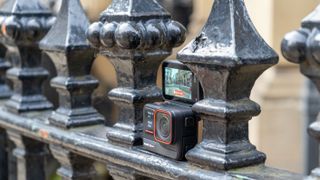 Insta360 Ace Pro: Performance
It's not a complaint, but it is true to say that this is quite a complicated device. That's something that Insta360 address with a simple power on tutorial which doesn't stop you for more than a moment.
The camera also offers a sentence of explanation about the best use of the different choices of angle (usually Action, Ultra, Linear+, or Horizon Lock depending on the shooting mode). Linear+ does a bit of magic to make a wide-angle shot look, well, flat, as we've seen on other high-end action cameras, and it's a great option to have.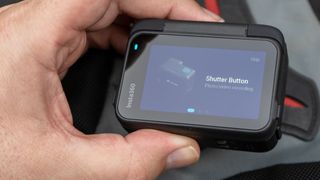 In general the interface is reasonably responsive, though it does take more than a moment to commit a photo captured with PureShot+RAW to memory, during which the screen even has time to display a progress bar. On the other hand timelapse videos are prepared very promptly.
Insta 360 Ace Pro: Camera Performance
Looking at image quality, there is very little to complain about. Even in questionable lighting, general gloom, and full-on darkness (yes, I really chose some great testing weather) the camera
Dark subjects on lighter backgrounds did reveal some fringing, especially in the edges when using the widest modes in raw, but the camera-processed equivalents are crisp and glorious – I'd be far more inclined to use the JPEG for most situations, I've got to admit, which is the opposite of how I feel about my Sony A7iii.
The focal range is such that holding in your own hand and vlogging is a little problematic for the focus – I found that my face ended up softer than the background. Normally, however, I'd have used a selfie stick for the small but essential extra distance.
There are a number of other software features (some which might add extra softness to my face) which I will try soon when I connect the app.
Insta 360 Ace Pro: Sample Images
Samples, taken in Leeds city center on a dull day, don't show the camera to it's full potential sadly. Note that I do feel the camera did a better job than I did with Raw processing (there is one Raw image in the gallery).
Insta 360 Ace Pro: Sample Video
The video quality is very impressive indeed, despite the miserable cloud-covered gloom in which I was able to test, as were the on-camera timelapse clips. The large sensor is clearly in evidence and the camera can pick up on the subtleties of color and tone in HDR mode or not.
I should note that I don't have the equipment to test 8K video.
Insta 360 Ace Pro: Overall Verdict
My hands-on experience with this camera has been all good, with the exception of the flap which covers USB-C socket and MicroSD card. This could be a serious worry for those hoping to work underwater (or in supremely dusty) environments, though it might be an issue with my camera – I am waiting on news from Insta360.
Otherwise this might be a new contender for the action camera crown only recently grabbed by DJI from GoPro. On paper it comfortably surpasses the DJI in terms of maximum video quality and optics too – it has the same size image sensor but a larger aperture. In use the software experience lives up to that just as effectively too.
In fact there are other sprinklings of brilliance here which come from Insta360's experience as a software company. Much of that isn't tested here because I've not had a chance yet, but I wanted to share my first experiences.
There is no denying, though, that this is a vlogging-skewed device. If you want something that exclusively prioritises action, then you might not even need a front-facing screen, and you certainly don't need this one. You also want to be a good bit more confident about the build of every opening. The software is also great, with the ability to pause (rather than make separate clips) as you go – a simple but brilliant idea.
So, think about what you will be doing before you put your hands in your pocket, but I'd be very surprised if this disappointed you. You might need a few more memory cards if you're planning on recording a lot of 8K though!
✅ Buy this if...
You want to create slick vlogs and live streams
You're looking to experiment with 8K video on the move
You want to save time with handy editing as you go tricks


🚫 Don't buy this if...
You need the most rugged action camera
You're looking for a cheap option
You're planning on going underwater without a dive case
You might also like...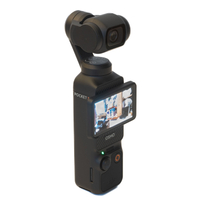 If you're prepared to tolerate one moving part, perhaps you can cope with another? The DJI Osmo Pocket 3 is a different kind of device, letting you smooth video by holding a 4K camera with 1-inch sensor on a gimbal. It might be less rugged, but it can be supplied with an excellent Bluetooth microphone.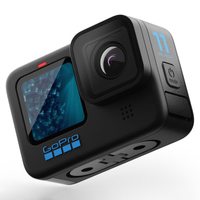 If you want to get the best of the action in the daylight, and record every bit of motion – even the GPS coordinates – then the GoPro Hero 11 Black was the last of the GoPros to come with GPS built-in, can shoot in 5.3K, and can now be found at a discount because the newer model (which lacks that feature) is shipping!
We've got a guide to the best action cameras, and another to the best GoPro alternatives (because a lot of people still think of this market as belonging to GoPro).