Looking for an all in one camera? Then you should seriously consider the Panasonic GH5 as it's not only an excellent stills camera, but a quality video recorder too. You're looking in the right place too, as we've compared the latest deals across a huge range of retailers to bring you the best GH5 prices currently available.
The GH5 has improved as a stills camera, showing a genuine attempt from Panasonic to ensure this is no longer seen as a video camera imitating a DSLR.
Not that the video camera aspects aren't seriously impressive. Critics have often cited the GH5 as one of the best 4K snappers on the market and a genuine alternative to a dedicated (and not to mention considerably more expensive) pro video camera.
The durable build quality and overall handling are excellent. The body-mounted controls are easy to reach and the touchscreen has been improved over previous models. Other noteworthy features include a 5-axis IS, fast shooting speed a speedy autofocus.
The optics and mount are smaller than full-frame or APS-C cameras. The smaller optics do mean the image quality isn't class-leading, but given the excellent 4K video camera, we think it's a fair compromise for the money.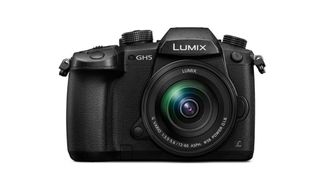 Panasonic GH5 key specs:
A superb camera that easily handles both video and stills
Type: Mirrorless | Sensor size: Micro Four Thirds | Resolution: 20.3MP | Lens: Micro Four Thirds | Viewfinder: EVF | Monitor: 3.2-inch vari-angle display, 1,620,000 dots | Maximum continuous shooting speed: 12fps | Movies: 4K | User level: Expert
Quality 4K video
Improved stills
Decent touchscreen
Durable design