"Should I buy a Panasonic GH5 in 2022?" is a question we hear all the time. This brilliant hybrid camera came out in 2017, and back then it was the camera to beat when it came to video – but the industry has caught up since then.
Today, the Panasonic GH5 is still one of the best Panasonic cameras and remains among the best cameras for video – and it's never been cheaper. So, should you still buy the Lumix GH5 today?
1. Is the Panasonic GH5 good for video / vlogging?
The simple answer is yes, the GH5 is still a very good camera for shooting video. Upon release it was arguably the best 4K camera, and it remains one of the best cameras for vlogging to this day. It boasts an incredibly array of video options for 1080p, 4K and even anamorphic 6K, with slow-motion 120fps and even super-slow 240fps – something that even most newer cameras can't match. It also has advanced features like zebra peaking, which traditionally was only found in the best cinema cameras.
2. Is the Panasonic GH5 good for photography?
With a 20.3MP Micro Four Thirds image sensor, the GH5 packs enough resolution to take very detailed shots. With so many cameras now packing upwards of 40MP, you may worry that 20.3MP isn't enough. Remember, however, that flagship professional cameras like the Canon EOS-1D X Mark III and Nikon D6 also possess 20MP sensors – so if that's enough resolution for National Geographic photographers to shoot front covers and magazine spreads, it should be enough for you!
3. Is Micro Four Thirds really any good?
Photography has always been an industry where 'bigger is better', which has led to the attitude that smaller Micro Four Thirds image sensors – around half the size of 35mm 'full frame' sensors – are inherently inferior. Of course, this overlooks the fact that 'full frame' is itself a misnomer, given that 35mm is positively tiny compared to 6x6cm medium format, let alone 8x10 inch large format!
Micro Four Thirds sensors may be smaller, but in many ways that is actually a benefit. For starters, it means that camera bodies are much smaller than their full-frame counterparts – but, more importantly, so are the lenses, which can be half the size and weight of full-frame glass. That's a big deal if you lug a lot of lenses around, or if you struggle to handle larger kit.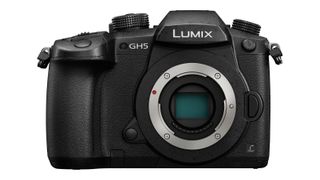 4. What does 2x crop factor mean?
Since Micro Four Thirds sensors are about half the size of 35mm sensors, a 2x crop factor comes into play. In practical terms, this means that you simply double the focal length of the lens you are mounting – so using a 100mm lens will give you a 200mm angle of view, which is very useful for shooting sports and wildlife.
Likewise, the crop factor also affects depth of field (DoF), so an f/1.8 lens gives you an effective f/3.6 DoF – but, crucially, it still gathers the full f/1.8 worth of light. So on the one hand, it's more difficult to achieve a shallow DoF (for blurry backgrounds). However, if you're shooting in low light conditions such as a dimly lit venue, you can shoot wide open without having to wrestle with wafer-thin DoF. It's also helpful for shooting macro, where you want as much in focus as possible!
5. Is the GH5 good in low light?
Having a smaller sensor means that there is less surface area upon which to capture light, so Micro Four Thirds cameras can't be pushed to the same tortuous ISO extremes. However, unless you're shooting at crazy high ISOs, this really needn't be an issue. If you want the best low light performance, however, the video-oriented Panasonic GH5S features dual native ISO for very clean results.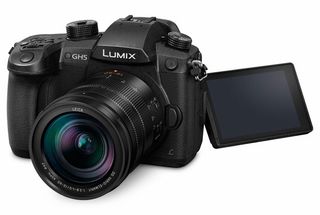 6. Is the image stabilization really that good?
The Lumix GH5 features in-body image stabilization, which means that the camera shifts the image sensor to compensate for movement, camera shake and so on. A big benefit of the Micro Four Thirds sensor is that, because it's so much smaller, the camera is able to provide stabilization that's far more effective than APS-C or full-frame bodies. Mount any lens and you will benefit from 5 stops of stabilization, but compatible Dual IS lenses from Panasonic will deliver a huge 6.5 stops for gimbal-free shooting!
7. Does the GH5 overheat?
While many of the latest cameras overheat when shooting video, and thus suffer from recording limits to prevent damage, you don't need to worry – the GH5 doesn't overheat, so you can shoot for as long as you like.
8. What lenses can I use?
The Panasonic GH5 uses the Micro Four Thirds lens mount, which is an open standard. This means that anyone can make lenses for it, meaning that the platform has more lenses that just about any other mount. There are native lenses from Panasonic, Olympus, Sigma, Tamron, Samyang / Rokinon, Laowa and plenty of other manufacturers. The mount can also accommodate virtually any DSLR lens via inexpensive adapters, so you can use everything from Canon EF and Nikon F to vintage lenses like M42 and OM optics.
9. So, the GH5 is still a good buy in 2020?
The Panasonic GH5 is still a formidable camera. For hybrid stills shooters, vloggers and content creators, anyone who wants to shoot with smaller and lighter kit, and wildlife photographers keen to shoot more while carrying less, it remains a fantastic option.
10. Are there any other cameras I should consider?
As noted, the Panasonic GH5S may be a better option if you're a dedicated video shooter, with its 10.2MP sensor and dual native ISO delivering much cleaner (less noisy) results. If you really want to push the ISO for stills, or you simply want the benefit of shooting on a larger sensor, the Panasonic S5 is in many ways a full-frame equivalent of the GH5 – a stills and video all-rounder that offers many of the same features on the larger format. And if you're serious about videography, the Panasonic S1H is the only mirrorless camera certified by Netflix for filming broadcast-quality video.
How we test cameras
Why you can trust Digital Camera World Our expert reviewers spend hours testing and comparing products and services so you can choose the best for you. Find out how we test.
We test mirrorless and DSLR cameras both in real-world shooting scenarios and in carefully controlled lab conditions. Our lab tests measure resolution, dynamic range and signal to noise ratio. Resolution is measured using ISO resolution charts, dynamic range is measured using DxO Analyzer test equipment and DxO Analyzer is also used for noise analysis across the camera's ISO range. We use these real-world testing and lab results to inform our comments in buying guides. For compact cameras and phones, we judge on real world handling and photographic results alone.
Read more:
The best Panasonic camera: from long zoom compacts to Lumix mirrorless
Panasonic S5 vs GH5
Panasonic GH5S review
Panasonic S5 review
Panasonic S1H review